Kojic acid soap refers to a cosmetic product used to reduce the appearance of pigmented areas on the skin. It might help lighten age spots, freckles, and patches of darkened skin. Usually, it is not possible to lighten a large expanse of skin with this type of soap, but it might fade small patches of dark skin if used regularly over a substantial period of time. These spots typically come from overexposure to the sun.
This natural acid comes from a fungus in mushrooms originally discovered in 1989 in Japan. The Japanese learned kojic acid also represented a byproduct of fermented rice when making sake. The acid is used in food as an antioxidant and preservative.
It works on the molecular level by inhibiting the production of melanin, the substance that gives skin its color. Melanin production involves a complex process involving the enzyme tyrosinase. Kojic acid soap might stop tyrosinase from entering skin cells, blocking melanin.
In addition to its use in kojic acid soap, the substance serves as a food additive to preserve the color of meat, seafood, and vegetables. It also might appear in soy sauce, miso, and sake, a rice wine popular in the Orient. Other uses include regulating plant growth and the preservation of oils and fats.
Manufacturers advise using this soap for four to six weeks before expecting results. It might produce dermatitis in some people, increase sensitivity to the sun, and thin the skin around the eyes. The most common side effects of kojic acid soap include skin irritation and allergic reactions. An additive might reduce these side effects. Long-term use might cause darkened areas between the fingers and toes, along with pigmentation on the buttocks and ears, and thin skin around the eyes.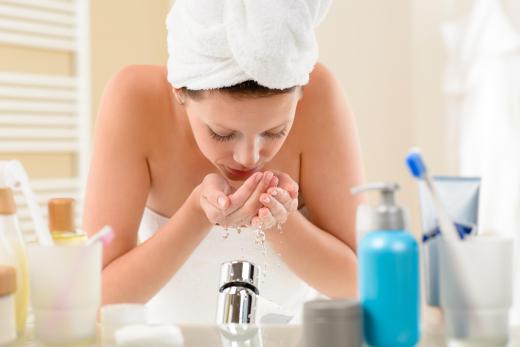 Using kojic acid soap or creams containing the substance replaces older skin lightening products, including mercury-based creams and hydroquinone. Mercury was banned in most countries because it can build up on the skin and be absorbed by internal tissues. Hydroquinone represents a synthetic chemical used to inhibit melanin production.
This chemical also was banned in some areas after it was used as a bleaching agent for centuries. It has been linked to some forms of cancer, but these claims are disputed. In animal studies, hydroquinone produced leukemia in mice exposed to high concentrations of the chemical. Most over-the-counter products still containing hydroquinone are regulated and contain very small amounts.
Some Kojic acid products still add hydroquinone or glycolic acid, but its use is considered rare because of potential side effects. It also becomes unstable when exposed to sun or air. Kojic acid soap typically does not contain other chemicals.
AS FEATURED ON:
AS FEATURED ON:







By: queen21

Kojic acid soap might be used to lighten the appearance of freckles.

By: Liv Friis-larsen

Using kojic acid soap may increase people's sensitivity to the sun.

By: CandyBox Images

Manufacturers recommend using kojic acid soap for up to six weeks before expecting any visible results.