Lanolin is a wax produced by woolly animals as a form of waterproofing. The wax naturally coats their wool to prevent them from getting wet. Lanolin is similar in composition to oils produced by the skin of other animals for the purpose of waterproofing, hydration, and lubrication. It is sometimes known as wool fat or wool oil, although chemically it is classified as a wax.
In its pure state, lanolin is yellow in color, with a strong odor. People who handle sheep and raw wool often find that their fingers are softened and supple as a result of all of the wax their skin absorbs, but also that their hands tend to smell strong and a bit gamey because of the lanolin. In processing, some of this odor can be removed, making the smell more neutral.
During wool processing, much of the lanolin is stripped from the wool, although some may be left in to confer natural waterproofing. The wax can be purified for commercial use once it has been removed from the wool.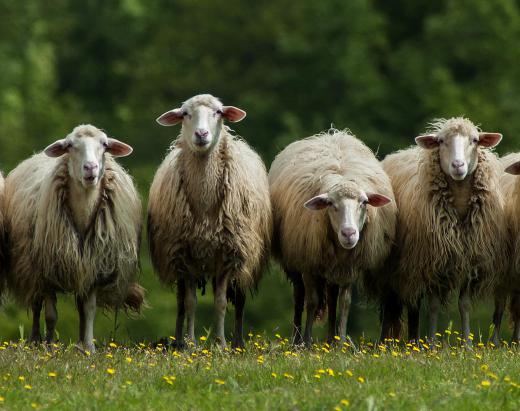 This wax is especially useful in emulsions of water and oil. It appears in many cosmetic products, especially those which are meant to lubricate or soothe skin. Cracked, dry skin can benefit from regular applications of this product, and it also shows up in products used to treat chafing, rashes, and similar conditions. Lanolin creams are even applied to the udders of milk animals to soreness and chafing, which in some cases means that sheep are treated with their own lanolin!
Lanolin is also used in lubricants, as a base for cosmetics, in rust prevention products, and in products designed to provide waterproofing. What works for sheep also works for things like boots and coats, and a layer of this wax can be a very effective waterproofing which will also allow the material to breathe, and keep the material supple and flexible. Flexibility can be key with waterproofing products, as it reduces the risk that the material will crack after being treated to waterproof it.
Pure lanolin can be obtained through a variety of sources, while products which contain the wax are readily available at stores which sell skincare supplies, lubricants, waterproofing materials, and so forth. People with sheep and other woolly animals can also process their own during the shearing and wool processing procedure which takes place annually. With large flocks, enough lanolin can be produced for it to be commercially valuable, while smaller home flocks can produce enough to keep a household amply stocked.
AS FEATURED ON:
AS FEATURED ON:







By: dinosmichail

Sheep are not slaughtered in the process of extracting lanolin.

By: Tiler84

Certain types of lanolin cream may be used to treat cracked skin.

By: marilyn barbone

Lanolin may be found in products that treat rashes and other skin issues.

By: librakv

People with cracked heels may benefit from lanolin.