What Is Military Underwear?
Military underwear is a set of specially produced undergarments for use in the armed forces. The clothing is issued to members of the military upon entering training, along with the rest of a standard uniform. Two sets of underwear are often issued: one for hot weather, and one for cold. The underwear has specific properties that make it suitable for training and combat.
For warm weather, military underwear is often made of tight, lightweight material, such as cotton. The fit of the garments helps keep the wearer comfortable and prevents bunching or slipping under clothing. The underwear is made from moisture-wicking fabric to assist with heat transfer during sweating and is very breathable. The fabric of the underwear is often treated with an antimicrobial substance to help prevent bacteria outbreaks caused by excessive sweat during hot weather.
Comfort is a primary focus of this underwear. Warm-weather garments are black, brown or olive green and are often made in a boxer-brief style, fitting close to the body and extending to mid-thigh. Some armed forces-issued underwear might be made in a short, briefs style.
Women's underwear comes in a plain briefs style. Women typically are also given a sports-type bra made from the same comfortable, moisture-wicking material. A thin, cotton or polyester T-shirt is also often worn under a military uniform to help move sweat away from the body.
Cold-weather situations demand thermal underwear. The thermal gear includes a long-sleeved top and long bottoms made from heat-trapping material that protects the wearer from cold temperatures and frost bite. Insulated underwear is made from a lightweight material, such as polypropylene, to keep the serviceperson comfortable. Like wear-weather underwear, cold-weather garments typically are issued in black, brown or olive green.
The useful outdoor-wear properties of military underwear make it popular among non-military people as well. Retail outlets both online and off sell official military underwear or close copies of the garments, frequently with generous military discounts. The heat-transfer and thermal properties of this underwear make it appropriate for those who enjoy outdoor activities such as hiking or snow skiing.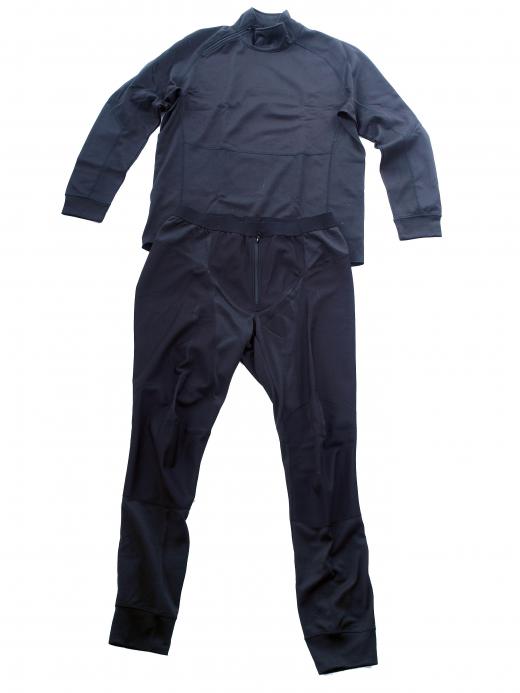 Clothing developers have long focused on making underwear for the military as effective as possible. Some high-tech underwear is designed to act as a compression device after sustaining an injury. Scientists have developed and tested military underwear that contains electrodes for detecting an injury to the wearer and can monitor heart rate, blood pressure and other vital signs via sensors in the underwear's waistband.
AS FEATURED ON:
AS FEATURED ON:







By: Oleg_Zabielin

Military underwear is designed for field and combat conditions.

By: Khvost

Military underwear is often made of lightweight material.

By: Burlingham

Women's military underwear comes in a plain briefs style and a sports-type bra that is made from a comfortable, moisture-wicking material.

By: Lucky Dragon

The military has special thermal underwear for cold-weather situations.