What is Nail Polish Thinner?
Nail polish thinner is a chemical solution that restores thickened nail enamel to its original consistency and helps prolong the life of the nail polish. Nail polish that is too thick may result in enamel that is difficult to apply and/or does not last as long on the nail as nail polish that is the correct consistency. The correct consistency of nail polish should allow one to apply at least two coats of enamel before needing to redip the brush.
It is important to note that regular nail polish thinner may inhibit the properties of certain fast-dry nail polishes. Therefore, seek thinners specifically designed for use with regular nail polish.
Usage of thinner typically includes the following steps:
Add a few drops of thinner with the polish. Some bottles come with a dropper or dropper spout to make this step easier.
Mix well. Some instructions will suggest to "shake" well; however, shaking can result in air bubbles in the enamel that will be evident when polishing the nails. A better alternative is to hold the bottle between the palms of the hands and roll from side to side until the thinner is thoroughly incorporated into the polish.
Wait several minutes before applying polish. Instructions will recommend waiting up to 20 minutes before applying the newly thinned polish.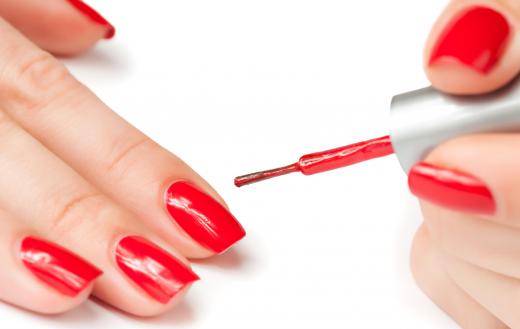 The ingredients found in traditional nail polish thinner often include any of the following: acetone, butyl acetate, toluene, methyl ethyl ketone, hexane, isopropyl alcohol, or heptane. These ingredients added to the original nail polish act as solvents in addition to replacing some ingredients that may have evaporated over time.
Many of these ingredients are damaging to surfaces and potentially explosive, so precautions must be taken in their use, including:
Store and use the thinner away from heat, sparks, and flame.
Do not smoke while using this product.
Do not allow the thinner to drip on synthetic or wood surfaces as it may cause damage.
Since some consider certain ingredients in nail polish thinner to be toxic, nontoxic alternatives exist. The ingredients may consist of ethanol and orange oil, a natural solvent. The best source for nontoxic, natural versions is the Internet, although some well-stocked beauty supply stores may carry them.
AS FEATURED ON:
AS FEATURED ON:







By: Dmytro Titov

Nail polish thinner can be used to prolong the life of nail polish.

By: larisabozhikova

Darker nail polish colors are more susceptible to clumping.

By: Alliance

The correct consistency of nail polish should allow one to apply at least two coats of enamel before redipping the brush.