What is Natural Lipstick?
A natural lipstick is a kind of lip color made from all-natural ingredients. These ingredients are derived from animals, plants, minerals, or algae rather than synthesized from industrial sources. Lipsticks that are not all-natural usually contain synthetic dyes, fragrances, and preservatives, some of which may be carcinogenic. As the average woman consumes between four and nine pounds of lipstick in her lifetime, some women choose to wear natural lipstick to avoid ingesting potentially harmful substances.
There are varying degrees of natural lipsticks, including natural, organic and vegan. Natural means that all the ingredients in a lip color are derived from natural sources. An organic lip color's ingredients are produced without the aid of synthetic fertilizers or pesticides. Vegan lipstick is a type of all-natural makeup that contains no animal products.
Historically, all makeup was all-natural, as modern synthetic sources were unavailable. The lip color used by Cleopatra was a natural lipstick made from the crushed shells of beetles for pigment and crushed ants for a base. Later, in Elizabethan England, it was common for ladies to use a naturally derived lip pigment that got its red color from red mercuric sulfide. Prolonged use of this pigment sometimes led to mercury poisoning. Modern lipstick manufacture began in the early 20th century, as the use of makeup grew in popularity due to the influence of Hollywood movies.
In modern times, lipstick is usually made with some type of wax, such as carnauba wax, candelilla wax, or beeswax. The other major ingredient of lipstick is oil; oil and wax make up about 60% of the weight of most tubes of lipstick. A natural lipstick usually contains base oils such as castor oil, shea butter, or olive oil and essential oils like tea tree oil or peppermint oil.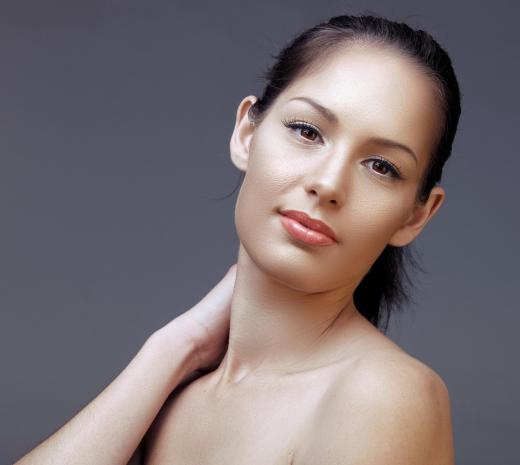 Perhaps the most important ingredient of lipstick is the pigment. In most lipstick, the pigment is a synthetic dye or lake similar to artificial food coloring. Many of these synthetic dyes are derived from substances like coal tar or aluminum and can potentially damage the lips. Natural substitutes for these synthetic pigments are used in natural makeup. Annatto, iron oxide, and cochineal are common examples of non-toxic natural pigments used in cosmetics.
Many types of natural lipstick are fragrance free, but some have fragrances derived from plant oils, such as rose or vanilla. Natural lipstick is generally made the use of parabens and other synthetic preservatives, which means that it may go rancid faster than lipsticks that have artificial ingredients. Antioxidants derived from natural sources are sometimes used in place of synthetic preservatives to lengthen the shelf life of natural makeup.
AS FEATURED ON:
AS FEATURED ON:







By: Eagle

Annatto seeds, which are sometimes used to make natural lipstick.

By: bst2012

A woman applying natural lipstick.

By: Lvnel

Natural makeup is often more attractive than caked-on makeup.

By: matin

Lipstick is commonly made with beeswax.

By: margo555

Olive oil is used as an ingredient in lipstick because of its moisturizing properties.

By: Rafa Irusta

Natural lipstick does not contain synthetic materials.