What is Natural Nail Polish?
Natural nail polish refers to nail enamel that is free of many of the chemicals commonly found in regular nail polish. Unlike regular nail polish, natural nail polish is water-based, rather than solvent-based. Natural nail polish is free of formaldehyde, toulene, artificial colors, xylene, and phthalates, all of which are common ingredients in regular nail polish.
No nail polish is completely natural, but the group of nail polishes marketed as "natural nail polish" minimize use of synthetic ingredients and chemicals. Besides for its water base, natural nail polish generally contains a small amount of plastic, usually in the form of polyurethane or co-polymers, and natural colorings. The plastic is used as a binding agent. Natural nail polish is solvent-free, or uses solvents in tiny amounts, and is non-toxic and odorless. It will not strip natural oils from fingernails and leave them dry like the effects of regular nail enamel.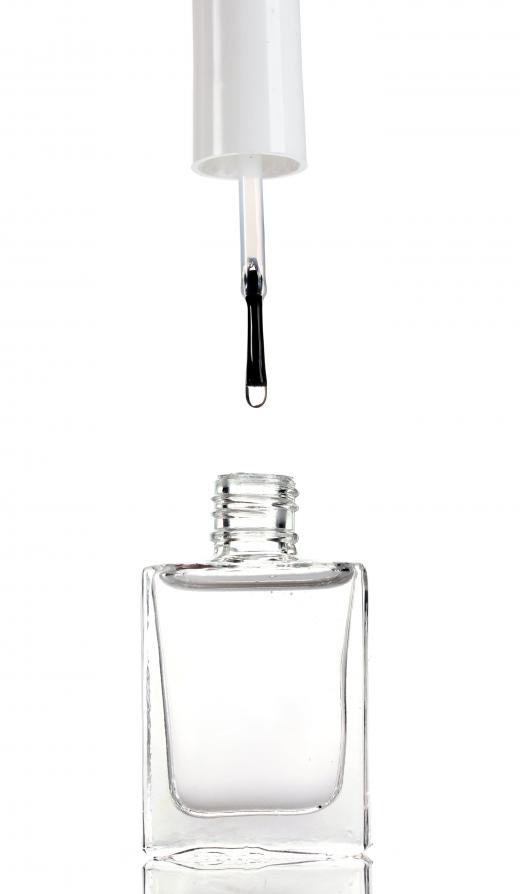 Some environmental advocates and scientists question the safety of these chemicals. Phthalates, a group of industrial chemicals that act as plasticizers, have been linked to birth defects and cancer. One phthalate known as dibutyl phthalate (DBP) was linked to cause underdeveloped genitals and fertility problems in newborn boys. Another study suggested that women who worked in nail salons had decreased attention and processing skills due to prolonged exposure to volatile organic compounds (VOCs), like those found in regular nail enamel.
Scientists who claim phthalates are safe often cite a study where the chemicals caused problems in rodents but not in non-human primates, implying that the chemicals may be safe for humans. Toulene is considered toxic, as is a formaldehyde, which is also a known carcinogen. Some people say these chemicals are used in such minuscule amounts in nail polish that they won't cause any problems.
It's up to consumers to decide whether or not they want these chemicals in the products they buy. Natural nail polish is marketed to people who want to avoid potentially toxic ingredients and VOCs, yet don't want to compromise fashion.
Non-toxic nail polish may take longer to dry than regular nail polish and usually reaches maximum hardness in four to six hours. Natural nail polish is available in many colors and in both peel off and non-peel off styles. Some polishes can be taken off with rubbing alcohol and vodka grain alcohol instead of traditional nail polish remover.
There are many vegan and organic natural nail polishes available. Vegan nail polish is water-based and free of animal products like carmine, a dye made from crushed scale insects.
AS FEATURED ON:
AS FEATURED ON:







By: Africa Studio

Clear natural nail polish.

By: Dmytro Titov

Natural nail polish is non-toxic, odorless, and comes in many colors.

By: larisabozhikova

Natural nail polish minimizes the use of synthetic ingredients but does contain a small amount of plastic.

By: Alliance

It is important to keep in mind that no nail polish is completely natural.