Noni soap is a type of soap made with noni plant extract and other ingredients such as shea butter, coconut oil, rice bran, and macadamia nut oils. The soap is available in several pleasant scents such as gardenia, lavender, citrus, peppermint, plumeria, and white ginger. An unscented variety of the soap is also available. The soothing ingredients included in noni soap make it ideal for those who suffer from dry or irritated skin.
The noni plant is commonly used to treat several skin conditions and problems such as eczema, acne, ringworm, and skin rashes. The plant also contains anti-bacterial and anti-fungal properties. In addition, the noni plant restores skin cells and rids the skin's surface of unwanted components. When combined with the other moisturizing and soothing ingredients included in the product, the soap leaves the skin soft, supple, and healthy.
Other ingredients used in noni soap typically include emollients such as coconut oil, olive oil, shea butter, and nut oils. Grapefruit seed extract, rice bran, aloe vera, herbs, and distilled water are also commonly used. Soaps that contain fragrance may include essential oils or other ingredients that add a pleasant scent to the product. Those who have sensitive skin may benefit from the use of the unscented variety of noni soap as it does not contain any possibly irritating fragrances.
In addition to its natural healing properties, noni soap usually does not contain any animal by-products. The noni plant is also commonly used in other skincare and cosmetic products such as body lotions, shampoos, and conditioners. Many who use noni soap enjoy following up with a noni lotion or body cream, but the soap can be used by itself, as well. Since the soap itself contains several emollients and skin-softening properties, lotions are often not needed after use.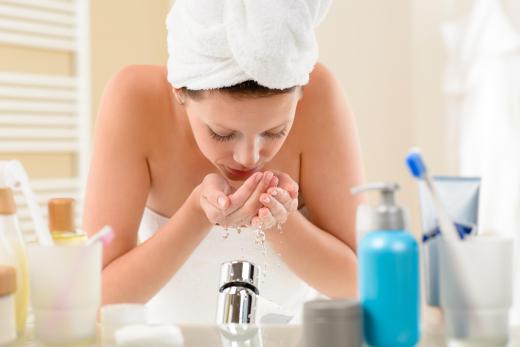 Although side effects from using noni soap are rare, some individuals may experience an allergy to the noni plant used in the product. It is best to test the soap on a small, concealed area of the body before using it all over. If a rash or redness occurs, discontinue use.
The noni plant can also be found in juices and supplements. The plant is high in vitamins and nutrients, as well as protein, carbohydrates, and fiber. It can also aid in digestion and boost energy levels. Consuming the noni plant can also produce various side effects, however, such as coughing, rashes, and headaches. Those with diabetes should use care when consuming noni as it can spike blood sugar levels and increase caloric intake.
AS FEATURED ON:
AS FEATURED ON:







Distilled water is commonly used in making noni soap.

By: phoopanotpics

Noni soap is available in many scents, including plumeria.

By: CandyBox Images

There are unscented noni soaps geared toward people who have sensitive or easily irritated skin.