Papaya oil comes from the seeds of the papaya fruit. The papaya plant grows easily in most tropical and subtropical environments across the globe. Several extraction methods including cold pressing and solvent extraction can derive oil from the seeds of the papaya fruit. The oil from papaya seeds is most widely used to condition and moisturize the skin and hair.
Products made from papaya, including papaya oils, are rich in nutrients, essential fatty acids, and anti-oxidants because of papaya's naturally high vitamin A, C, and E concentrations. Certain anti-oxidants including those found in papaya oil can help provide a person's skin with the protection and moisture it needs, and is absorbed quickly by skin.
This oil is widely used to treat a variety of skin problems such as psoriasis and eczema. This oil may also be used to firm the skin, remove blemishes, and even out skin tone. Soaps and lotions containing papaya oil are often used to exfoliate and moisturize the skin. Applied topically, papaya oil may help treat sore and cracked heels.
Applying papaya oil to the skin may reduce wrinkles, fine lines and other signs of aging. The enzyme papin in papaya products helps soften and dissolve the material that bonds dead skin cells to the surface of the skin. Papaya oil can make the skin cleaner and appear healthier overall.
The cold pressing method of extraction involves mechanically pressing papaya seeds at temperatures not exceeding 120 degrees Fahrenheit (48.8 degrees Celsius). Certain solvents may also effectively extract oil from plant seeds such as papaya seeds. At high pressures, carbon dioxide converts to a liquid and can be used as a solvent to extract oil from materials.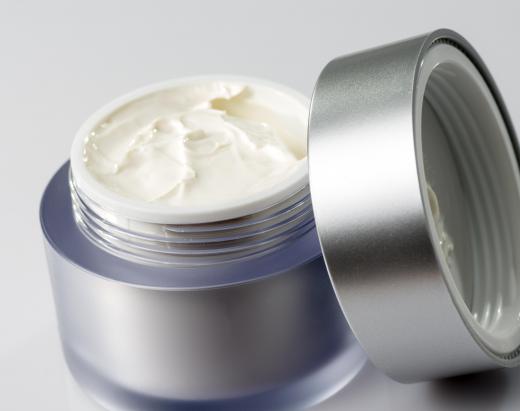 The oil usually undergoes more processing after extraction from the papaya seed. Refining papaya oils removes impurities, improves texture and color, and increases the oil's shelf life. The oils may go through a degumming process after the refining process to remove any sticky phospholipids.
The papaya plant that produces the fruits this oil is made of make the most fruit in warm environments. The plants can easily be damaged by a light frost or even brief exposure to temperatures below freezing. The plants themselves can grow to heights exceeding 12 feet (3.65 meters). The flesh of most papaya fruit is yellow, orange, or pink while most papaya seeds are small, black, and located in the center of the fruit. Most papayas weigh around a pound but certain varieties can produce ten-pound papayas.
AS FEATURED ON:
AS FEATURED ON:







By: efired

Products made from papaya, including papaya oils, are rich in essential fatty acids and anti-oxidants.

By: Boris Bulychev

Papaya ointment is a popular treatment for dry skin.

By: luiscarceller

Some anti-aging creams contain papaya oil, which may improve the appearance of wrinkles.

By: idmanjoe

Oil can be extracted from papaya seeds.

By: kurapy

Overwatering and poor soil drainage may cause rotten papayas.

By: Jingling Water

Skin conditions like eczema may be treated with papaya oil.

By: Lucie Říhová

Papaya oil is believed to offer a number of benefits for skin.

By: librakv

Papaya oil may help treat cracked heels.