What Is Permanent Lipstick?
Permanent lipstick is a type of cosmetic tattoo that is applied to the lips. This procedure can be used to enhance the shape and color of the lips, but it is also usually quite painful. Unlike other types of lipstick, this lipstick will never rub off. It will fade over time, however, and some women may need to get periodic touch ups. If it is not applied properly, permanent lipstick can also cause an uneven lip line or scarring.
Tattoos that mimic the look of traditional makeup are cosmetic tattoos, and they are sometimes referred to as permanent makeup. Permanent lipstick is one type of permanent makeup. This type of tattoo can help even out the shape of a person's lips, or it can add color to the lips. While many people who get this procedure done usually choose a subtle shade for the lips, more vivid colors can also be used.
Permanent makeup tattoos are applied just like most other tattoos. A cosmetologist usually uses a tattoo gun. This device has a very small needle that rapidly and repeatedly pierces the skin, depositing ink under the surface.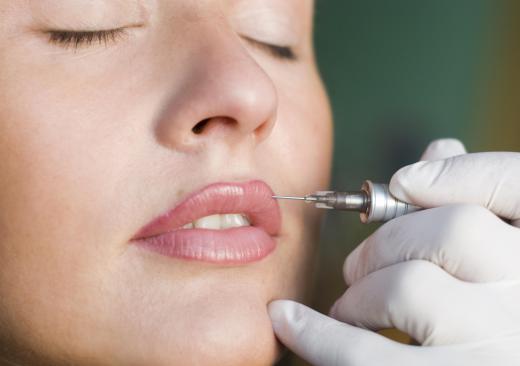 The delicate tissues of the lips are generally very sensitive, and permanent lipstick application is usually very painful. To minimize this pain, the lips will usually be numbed with a topical numbing gel just before the procedure. Despite this, the procedure is still somewhat painful, since the numbing agent will not completely numb the area.
After the application of permanent lipstick, the lips will usually be very sore, and the skin around them may be bruised. They will also usually be very swollen, and they may even bleed a little. It is very important not to expose the lips to sunlight or harsh chemicals until they heal. A cosmetologist will typically provide a special lip balm or at least recommend one.
Individuals who undergo any other type of lip enhancement procedure, such as collagen injections or lip implants, should wait at least several months before getting permanent lipstick. These previous injection can cause several problems with lip tattoos. The color in the permanent lipstick may fade, for instance, or it may bleed into the paler skin that surrounds the lips, resulting in an unnatural appearance.
Permanent lipstick, although very convenient, has several disadvantages, particularly if the procedure is not done properly. As with any tattoo, there is a chance of infection. Lip tattoos are also usually very expensive, and they also have a tendency to fade over time. Many people who get these tattoos will usually need to get regular touch ups to maintain the results.
AS FEATURED ON:
AS FEATURED ON:







By: Katarzyna Leszczynsk

Permanent lipstick is a cosmetic tattoo applied to the lips.

By: alex83ch

The delicate skin of the lips is typically sensitive and easily irritated.

By: armina

Individuals who undergo collagen injections should wait at least several months before getting permanent lipstick.

By: Eireann

Permanent makeup tattoos are applied just like other tattoos.