Roll-on perfume is perfume that comes packaged in a special bottle that allows the perfume to be applied by gently rolling the tip of the bottle over an area of the body. Generally, roll-on applicators are spheres set permanently into the opening of the bottle that roll as the bottle is swiped over the skin, depositing small amounts of perfume from the bottle onto the desired areas. This application system also provides a convenient way for some perfume brands to combine glitter, shimmering powder, or other decorations with the perfume for a visual effect.
The design of roll-on perfume bottles does not generally allow very much perfume to leak out of the bottle, as can sometimes be an issue with bottles that have a screw-on cap or another type of opening. This makes roll-on perfume a good choice for users who will be traveling, as the perfume is less likely to escape and seep out onto other belongings in the suitcase or purse. Men who travel frequently may also prefer roll-on cologne over traditional spray-on cologne bottles for the same reason. This design, however, means that roll-on bottles cannot be refilled once they are empty, and must be discarded and replaced. Traditional spray perfumes with removable caps can be refilled easily, allowing the user to keep and reuse more expensive, decorative bottles.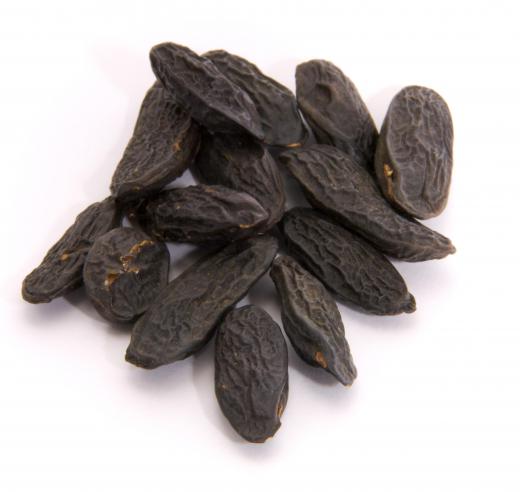 Typically, roll-on perfume is applied to the same general areas of the body as perfume in regular bottles. These commonly perfumed areas include the throat, the wrists, just under the ears along the jawline, and the collarbone. Due to the fact that the roll-on bottle controls the amount of perfume dispensed, some users have a tendency to apply the perfume to more or larger areas than usual, believing that there is not as much of a risk of applying too much scent as there is with traditional spray or mist bottles. It is still very possible, however, to apply too much scent with a roll-on bottle, so users should take care to dab the perfume on lightly.
Most roll-on perfume scents are similar to regular perfumes in that they are available in several common feminine fragrances. Sweet scents such as vanilla are often combined with spicy or floral scents like cinnamon or jasmine. Roll-on perfume products featuring glitter or shimmer are typically targeted at younger women and teenagers, and are more likely to have young, girlish fragrances like candy or sweet fruits. Heavier, muskier fragrances are sometimes favored by women trying to avoid overly sweet, girlish perfumes.
AS FEATURED ON:
AS FEATURED ON:







By: S.John

Tonka beans, which are sometimes used in roll on perfume.