What Is Sandalwood Powder?
Sandalwood powder is the ground wood from a group of trees known as sandalwoods. There are several varieties of the tree, meaning different powders have different properties. Some sandalwood is white and some is a dark red, but the most common variety is a brown, earthy color. The powder is fragrant and can maintain its perfume-like smell for many years. Uses for sandalwood powder include its inclusion in perfumes, topical skin and body creams and incense mixtures, and as a cooking spice.
One use for sandalwood powder is as a treatment for acne. The powder is mixed in equal amounts with the spice turmeric and then made into a thick paste by adding rosewater. This sandalwood paste is applied to the face and allowed to work overnight. It is rinsed away in the morning and is reputed to help remove acne and blackheads.
A stronger mixture of just sandalwood powder and rosewater or regular water also can create a paste that will help to cool the surface of the skin. This can be applied to sunburns or to the forehead for relief from sweating. This same mixture can be used as a nightly facemask to help even the tone of the skin.
Red sandalwood powder has a similar topical use. Mixing the powder with almond oil and coconut oil creates a cream that can be put on areas of the face where there are blemishes or rough skin. After 15 minutes, the skin is rinsed clean of the mixture.
Many manufacturers of skin and body products regularly use sandalwood powder as a cosmetic ingredient. The powder, when used in sufficient quantities, can add a distinctive scent to beauty products. When mixed into body and bath soaps, it has properties that can help to exfoliate the skin, although skin irritation could occur in some people using it for this purpose.
The powder is frequently used in mixtures of incense and potpourri. It can be burned, even in powder form, to release the natural fragrances. In aromatherapy, the scent of sandalwood is said to help relieve depression and anxiety.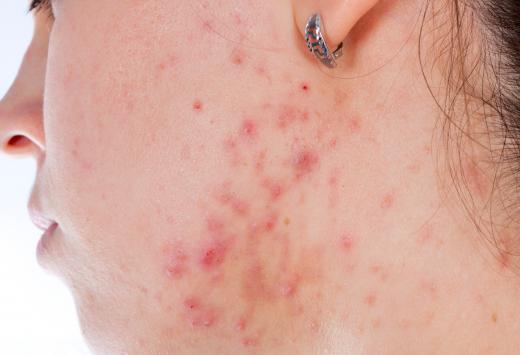 Sandalwood powder has two important properties that allow it to affect the appearance of the skin and body. It is a natural astringent, meaning the powder can tighten the skin and reduce blemishes. It also has antiseptic abilities, allowing sandalwood to help fight infection and irritation on the skin.
AS FEATURED ON:
AS FEATURED ON:







By: picsfive

Sandalwood powder can be mixed into bath soaps.

By: gigidread

Sandalwood powder is used to make incense and other aromatic products.

By: badmanproduction

Sandalwood powder can be used as a treatment for acne.