Shower gel, sometimes referred to as body wash, is a personal care product similar to liquid soap which can be used to clean the body while showering. Many people prefer using gel because the product is easier to handle than bar soap and leaves no messy soap scum residue in the shower.
There are many different types of shower gel, and is often sold as part of a complete product line that includes coordinating perfumes, lotions, scrubs, and body sprays. You can find those with fruit or floral inspired scents, as well as products designed to appeal to more masculine tastes. Several manufacturers sell aromatherapy versions that promise to reduce stress, promote a more restful sleep, or boost your energy levels. There are also special gels made for people with very dry or sensitive skin as well as some with avocado oil, shea butter, milk proteins, and other popular skin care ingredients.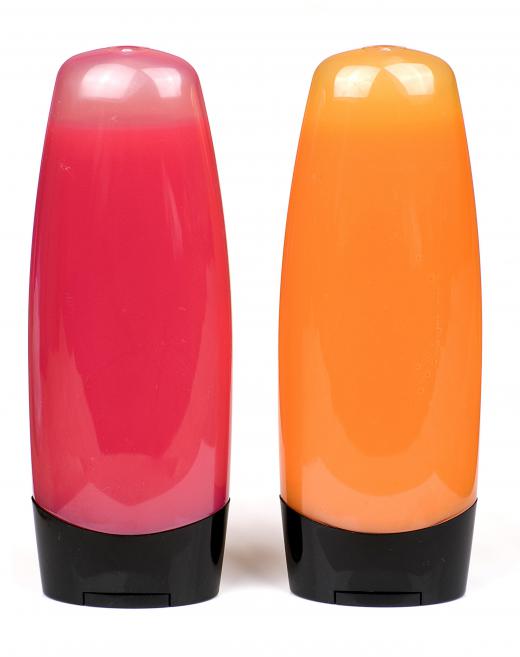 Shower gel, like many other types of personal care products, is available in a wide variety of price ranges. You can find inexpensive ones at large discount stores such as Wal-Mart or Target for a fraction of the cost of the designer gels available at fine department stores and specialty boutiques. While more expensive versions do tend to use slightly higher quality ingredients and have longer lasting fragrances, the majority of this price difference can be attributed to increased marketing and advertising costs.
If you're trying to save money, you can make the most of your shower gel by washing with a mesh bath sponge that will help create a rich foaming lather. You can also stretch your gel by diluting the product with water, since most are much thicker than what is truly necessary. The majority of brands can be diluted with 25-50% water without a noticeable effect on performance.
If you can't find a product that suits your needs, try making your own customized shower gel. There are many websites which offer detailed tutorials for how to make your own shower products, massage oils, bath bombs, and other homemade toiletries. In addition, most larger craft stores sell unscented shower gel bases that can be customized by using various essential oils and skin care additives.
AS FEATURED ON:
AS FEATURED ON:







By: Dessie

Bottles of pink and orange shower gel.

By: Africa Studio

People use bath sponges to help create a rich lather from their shower gels.

By: silver-john

Shower gels are used to clean the body during a shower.

By: viperagp

Shower gels may include essential oils.

By: tashka2000

Avocado oil is used in some shower gels.

By: Iurii Sokolov

Shower gel is sometimes referred to as body wash.

By: Ariwasabi

People with dry or sensitive skin should choose a gentle shower gel that won't irritate their complexion.