Sugar waxing is a type of hair removal that involves using a thick gel on the skin. Sugar wax can either be in the form of a gel or wax resin. The thick, sugary adhesive resembles caramel, and is spread on body hair and quickly removed to eliminate hair.
Like regular waxing, sugar waxing requires at least a quarter inch (6.35 millimeters) of hair growth prior to being used. The product is applied with a stick in the direction of the hair growth. After the hair is fully immersed within the gel or wax, a paper strip or clean cloth is applied directly over the product. The covering is then quickly pulled off in the opposite direction of the hair growth, removing the body hair directly from its follicles.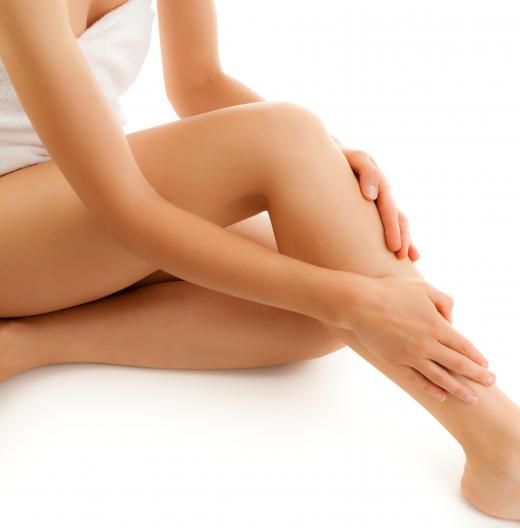 There are many benefits to removing unwanted hair with sugar wax rather than traditional waxing. The method allows hairs to be gently lifted rather than painfully removed. Some claim that the process is an entirely pain-free removal of hair. Gel sugar wax is also made of all natural ingredients, such as sugar, lemon juice, and water. Using all natural ingredients can help prevent skin irritation.
Clean up is also considered to be simpler with sugar waxing. Gel sugar wax is water soluble, and can be cleaned off the skin using water alone. Wax resin is stronger and leaves a sticky residue if not removed with both water and soap.
Some drawbacks to regular waxing are still present with sugar waxing. Hair breakage, ingrown hairs, and skin irritation can all still occur. Sugar pasting, is considered a safer, more effective method of hair removal. Though very similar to sugar waxing; it is known as sugaring.
Used in salons and spas, sugar pasting is different from sugar waxing. This method includes using a thicker paste applied directly with the hands rather than a stick. The sugar paste is molded into a ball and rolled in the direction of hair growth. Salon professionals can also remove shorter hair with sugar paste; body hair as short as a sixteenth of an inch (1.59 millimeters) can be removed with this product.
Homemade sugar paste can be easily created using household ingredients. Granulated sugar, water, and lemon juice combined and cooked over high heat will yield a similar product to the one used in professional salons. The mixture should be simmered and constantly stirred until the sugar is melted and golden brown. The product should be cooled completely prior to using.
AS FEATURED ON:
AS FEATURED ON:







By: Jacek Chabraszewski

Sugar waxing can be used to help women shave their legs.

By: tcey

Sugar waxing is applied with a stick.

By: F.C.G.

Sugar waxing, like regular waxing, can lead to ingrown hairs.

By: starush

Sugar waxing allows hairs to be gently lifted rather than painfully removed.

By: Nobilior

Waxing is a form of hair removal commonly used on the legs, bikini line and armpits.

By: BlueSkyImages

Waxing the bikini area during menstruation may caused increased pain to the area.

By: Natalia Chircova

Waxing the genital area during pregnancy may be more painful for some women.

By: Richard Villalon

Applying numbing cream to the area may help reduce the pain caused by waxing.