What is the Caesar Haircut?
The Caesar haircut was an especially popular hairstyle during the 1990s. The cut is named after Julius Caesar. Busts of Caesar depict him with a short hairstyle, which in particular has short bangs, slightly brushing the top of the forehead.
Many people are more likely to associate the Caesar with George Clooney, who wore his hair in this manner for some time during the 90s. If you watch early episodes of the popular show E.R., Clooney sports the cut. The style is often remarked as an excellent one for men who have thinning hair, because the shortness of the cut makes thinning less pronounced. Yet others believe the Caesar haircut is now out of fashion and dates its wearers.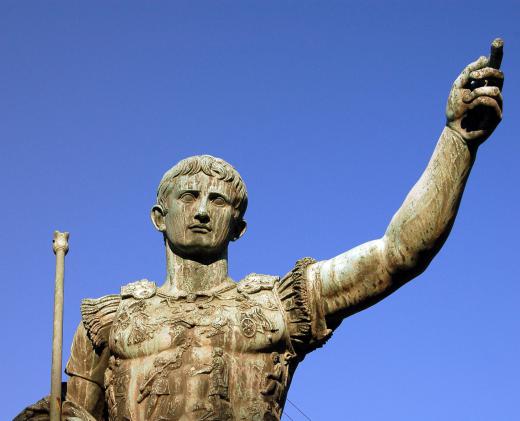 The standard Caesar haircut trims the hair within an inch to two inches (2.54-5.08 cm) all around the head. The bangs may barely cover the forehead, especially when the hair is one inch in length. Hair length can be even shorter in some instances, with the hair buzzed rather than clipped. Some women wear a longer version of the Caesar haircut, though it's a pretty daring cut for women to use, and women may prefer longer bangs.
One benefit to the Caesar haircut is that the short length of the hair is easy to spike. With a little gel, you can push the bangs back or spike the top. Another advantage is that with a little styling cream or gel, the cut will stay in place and doesn't require much maintenance. However, if you want to maintain the look, you'll need to get regular trims, about every six to eight weeks.
Styles similar to the Caesar haircut include the barbershop style cut, which trims the hair to a single length around the head, but creates a very defined edge to the cut. Another style that is somewhat similar is the French crop, which does not have hair all one length. Instead bangs are slightly longer and hair on the sides can be very short.
You may note other examples of the short version of this style. It was popularly worn by many males actors in shows like Battlestar Galactica. It's still considered an excellent style for little boys because it is easy to take care of.
Some people don't like the amount of forehead the Caesar cut shows. It may be better suited for men with lower foreheads, which are proportionate with other facial features. When men have very high foreheads, they might want to consider the French crop instead, since this gives them longer length bangs.
AS FEATURED ON:
AS FEATURED ON:







By: faberfoto

Caesar hairstyles feature relatively short hair all over the head, except for the bangs.

George Clooney had a Caesar-style haircut in the 1990s.