What Is the Difference between Shower Gel and Body Wash?
Shower gel and body wash are both forms of liquid soap that are appropriate for cleansing the body. The primary difference between the two is texture. Shower gel has a firmer, gel-like consistency, while body wash is more like liquid soap or dish soap. Another difference between the two, though slight, is their concentration. Much like the difference between perfume and eau de toilette, shower gel frequently has a higher concentration of fragrance and tends to go farther.
Both types of soap are popular alternatives to bar soap for cleansing, especially among women. Their preference could be attributed to how easy they are to use and store, but is most likely because of the wide variety of scents available. Both may also be more appealing than bar soap because they frequently include moisturizers.
Most people find it best to apply these products with a bath sponge or mitt. A washcloth can be effective, but sponges and mitts tend to produce more lather. There are differences in the quality of gels and washes as well. Less expensive drug store brands clean as effectively as the more expensive bath store products, but tend to produce less lather. There are exceptions, but bath store products typically have a wider variety of fragrances.
Shower gel and body wash are available for women, men, and even children and infants. Infant body wash is very mild and can be used on skin and hair. There are a wide variety of fragrances available in all varieties, including designer fragrances and those made specifically for men.
The best way for consumers to find the bath product that they prefer is to experiment with different varieties and fragrances. Products are available for sensitive skin and with extra moisturizers, so shoppers can simply read the labels and ingredients before buying. Parents should avoid using either product on babies and young children unless it is specified for that use, as adult cleansers can sometimes be too harsh for young skin.
How To Use Body Wash and Shower Gel
When using a body wash or shower gel, only use the correct amount to get the most out of it. Usually, this is about a palmful, but it can also be the size of a quarter. Depending on the product's ingredients, how much you need to use can vary. Also, you may want to use more if you have been doing certain activities, like:
Gardening
Sweating
Swimming
Exercising
Or other activities that have left you visibly dirty. Otherwise, you only need to use shower gel when washing your underarms and groin area. 
You can also use shower gel as a hand soap. It may be surprising, but body wash is specially formulated for skin, while most hand soaps are drying. If needed, the body wash can be used as a hand soap as long as you wash for 20 seconds.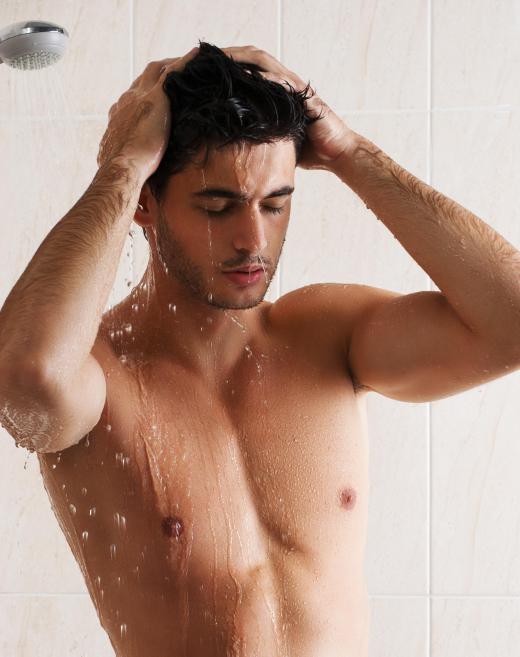 Whether or not shower gel is useful as a face wash is a valid question since both are for the skin. However, it is essential to note that facial cleansers are formulated specifically for your face and use different ingredients. The skin on your face is more sensitive than the rest of your body, which is why using shower gel on your face is not recommended. 
To ensure your body wash is used to its fullest, take these steps when showering:
Don't make your water too hot: Hot water will make your skin dry out. Use warm water instead to ensure your skin stays moisturized. It may be tempting to use hot water all of the time, but it does not benefit your skin health.
Exfoliate and moisturize: Exfoliation can help your skin absorb the ingredients from your shower gel, like moisturizers or antioxidants. Regular exfoliation can keep your skin healthy and glowing. After showering, use a body lotion to keep your skin soft. 
Also, if you have a new body cleanser, take some time to let your body acclimate to it. It is essential, especially for natural washes. Knowing how to shower correctly can maximize the effectiveness of the cleanser you choose.
Is Shower Gel Shampoo or Body Wash?
A shower gel is formulated specifically for your skin, so you should not use it as a shampoo. Shampoos and conditioners have ingredients for your hair and scalp, so you should use those instead. The pH level of your scalp and hair is different from the rest of your body. This fact is crucial when thinking about using body cleansers in your hair. Using regular soap on hair causes dryness and leaves a slimy feeling on your hair. Shampoo combats this, which is why it is better for your hair. 
Shampoo usually has ingredients that treat common hair issues, like:
Shampoos also have additives that help hair, like amino acids, proteins, and herbal extracts. You do not generally find these kinds of ingredients in a shower gel. If your hair is color-treated, you may also find you have damage from the process. There are special shampoos made to combat this damage and make your hair healthier. You will not see this in a shower gel. 
Shampoos have particular formulas, and they do not strip hair of the protective oils present. These oils help our hair stay healthy and shiny, so stripping it off is damaging. 
There are hundreds of different formulations available because there are many hair concerns and textures of hair. While you may use some products as a body cleanser and shampoo, it is usually best not to use shower gel in your hair.
It may be tempting since both are types of soap, but they are both specifically designed to work on designated areas of your body. Therefore, you should use shower gel to cleanse your body in needed places or all over if necessary. 
Can Shower Gel Be Used As Body Wash?
These two products may seem interchangeable, but there are some slight differences. A body wash has a thinner consistency than shower gel, which has a thicker and firmer feel. Also, shower gels are generally more aggressive cleansers, while body washes have more skin-softening ingredients. 
As stated, if you want to use a shower gel as a body wash, you can. Just keep in mind that, depending on the ingredients, it may dry out your skin. A body wash may be better since it has more skin-soothing elements. It is valuable if you have issues with dryness or itchy skin. However, both types of cleansers accomplish the task of cleaning your skin of dirt and sweat. 
What Is Shower Gel Used For?
The main purpose of shower gel is to clean your skin. This removes all the sweat, dirt, oils and grime that build up during the day, leaving your skin feeling light and fresh. Of course, cleansing is just one of the things a good shower gel and do for your body. Helpful ingredients can also provide gentle exfoliation, get rid of dead skin cells and make skin feel smooth and soft.
Some shower gels have specialized conditioners, which means they can double as hair shampoo. Not all shower gels can do this, so you'll want to look for a product that specifically says it's for use as a shampoo and skin cleanser if this is something you want.
What Is Body Wash Used For?
Body wash is also designed to clean your skin when you take a bath or a shower. Many people use this silky-smooth bath product as a way to pamper their skin. Each brand of body wash is different, but many formulations have ingredients that also hydrate and soften skin, locking in moisture after your shower.
Compared to traditional bar soaps, body wash is a huge upgrade for skincare. Instead of harsh cleaning agents, you get gentle cleansing ingredients that leave your pores clean without irritating your skin. High-quality body wash products can help prevent dry or flaking skin.
What Are the Best Shower Gel and Body Wash Products?
The best options for shower gel and body wash depend on your skin. Some people have sensitive skin and others produce more natural oils. This list can help you understand general ingredients to look for:
Cleansers: Every type of shower gel and body wash will have some kind of detergent ingredient to clean away dirt and oils. Sodium lauroyl isethionate and lauryl glucoside are two examples of gentle detergents. Glycerin is a popular natural cleanser.
Surfactants: Ingredients such as coco glucoside help body wash provide that irresistible foaminess while making it easier to clean your skin.
Emulsifiers: These ingredients provide the firm texture of shower gel and produce even more foam for body wash.
Fragrances: Many shower gels and body washes contain ingredients that smell wonderful. These ingredients often include aromatic plant extracts and essential oils, such as rose oil, lemon oil and lavender.
Moisturizers: Glycerin also doubles as a moisturizer, helping skin stay hydrated. Some body washes contain nourishing, heavenly ingredients such as shea butter, sunflower seed oil, jojoba oil or vitamin E.
Exfoliants: For a deeper clean, choose a product with exfoliants such as oatmeal, ground apricot pits, lactic acid or salicylic acid.
How Can You Choose the Right Shower Gel or Body Wash for Your Skin?
If you have sensitive skin that gets irritated easily, choose a gentle product that contains moisturizing ingredients. Avoid anything with dyes, fragrances or strong essential oils. For exfoliation, always go with soothing oatmeal body washes or gels containing aloe vera.
People who have dry skin can generally enjoy products with fragrances, but they need to make sure shower gel and body wash have abundant moisturizing ingredients. Products with shea butter, coconut oil, glycerin and sweet almond oil can hydrate the skin effectively.
What if you have oily skin or problems with acne? Focus on the cleansing aspect of shower gels and washes. Tea tree oil, salicylic acid and glycolic acid are excellent choices for cleaning pores without damaging the skin.
For ultra-smooth skin, get a gentle body wash or shower gel that exfoliates and softens skin cells naturally. A combination of hydrolyzed milk protein, lactic acid and niacinamide, a skin conditioner, can leave it feeling supple and soft.
What Are the Benefits of Shower Gel?
Shower gel can cleanse your skin and exfoliate quickly. You can use a small amount of product to create a lot of lather for your whole body. If you're in a hurry, this type of product can save you time in the shower.
Many shower gels have luxurious fragrances and essential oils that make you smell and feel wonderful. A good shower gel can put a smile on your face before you leave the house in the morning or help you relax when you get home at night.
What Are the Benefits of Body Wash?
Body wash is all about pampering yourself. With moisturizers, skin-softening ingredients and sumptuous body butters, these products can treat you to a wonderful experience in the bathtub or shower. There is a wide range of body washes to choose from, so you can take good care of your skin, whether it's dry, oily, sensitive or balanced.
AS FEATURED ON:
AS FEATURED ON:







By: Simone Andress

Shower gel has a firmer texture than body wash.

By: Dmytro Sukharevskyy

Body wash has a similar texture to dish soap.

By: Africa Studio

People use bath sponges to help create a rich lather from their shower gels and body washes.

By: Iurii Sokolov

Body wash and shower gel are available for men, women and children.

By: Ariwasabi

Shower gel and body wash are particularly popular among women who prefer alternatives to bar soap.