Thyme lotion is any lotion that contains fresh or dried thyme, thyme oil, or thyme extract. This aromatic, perennial herb grows in most parts of North America and Europe. It has long been used as an herbal remedy for maladies of the joints and muscles, as well as for skin irritations and rashes. When added to homemade lotions, thyme leaves a spicy, energizing fragrance on the skin. The leaves and flowers of the plant may be used in most homemade lotion recipes.
Though herbalists often use thyme as an internal remedy for coughs, colds, and fevers, it is also beneficial for many external problems. Research shows that it often soothes insect bites and stings, moisturizes extremely dry skin, relieves acne, and may even help relax tense muscles and soothe inflamed joints. Thyme lotion may be applied daily or just as needed, depending on the user's preferences.
Many herbalists employ thyme lotion as an antiseptic and anti-fungal treatment. It often helps keep minor cuts and abrasions from becoming infected, allowing them to heal more quickly. Those suffering from athlete's foot may apply this lotion to the affected areas to relieve itching and help kill the infection. Both women and men may also benefit from applying thyme lotion to freshly shaved areas as it often helps prevent razor burn, in addition to softening skin.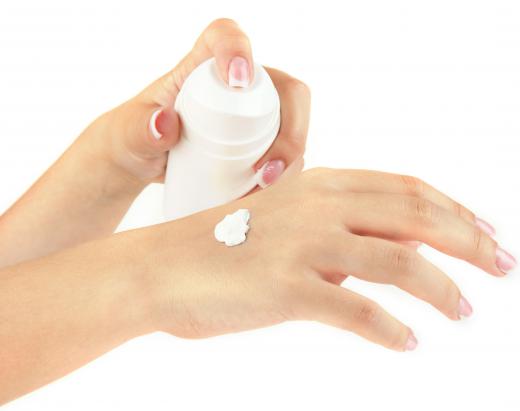 Making thyme lotion may be done in one of several ways. One of the easiest methods is to mix thyme oil or extract into gentle, unscented skin lotion. Lotion for sensitive skin often works best because it rarely contains ingredients that will react badly with the thyme. About 20 drops of extract or oil per bottle of lotion should be plenty. This method may also be used to mix aloe sap and thyme together.
Another method for making thyme lotion involves creating the lotion from scratch. The base for such a lotion is usually shea, cocoa, or coconut butter. The maker usually melts one part of his or her chosen butter in a double boiler and adds about 0.25 part thyme oil or dried thyme leaves. After simmering the lotion for about 10 minutes, the maker may pour it into a heat-safe container to cool. Dried thyme leaves may be strained out of the lotion with cheesecloth.
The above recipe is very simple and may be modified if the maker wants added benefits from other herbs. Tea tree oil adds additional antiseptic qualities, while rose hip and lavender oils give the lotion a pleasant scent and typically provide additional skin-softening benefits. Those that like colored lotions may stir a little food coloring into the mixture, though too much may temporarily stain the skin.
AS FEATURED ON:
AS FEATURED ON:







By: MM

Thyme lotion.

By: Africa Studio

Thyme lotion can be applied to one's hands.

By: maska82

Thyme lotion can be used to moisturize extremely dry skin.