What Should I Consider When Buying a Glasses Case?
Protecting your eyeglasses by selecting and using a suitable glasses case can prolong the life of the glasses. A glasses case can prevent scratches to the lenses and also preserve the shape of the frame. Fortunately, eyeglass cases come in numerous patterns, fabrics, and designs so finding a glasses case that suits your needs and choice of style should not be difficult.
Some glasses cases snap to close, others zip and some are more like a sleeve that encompasses the glasses but does not have a closure. Most glasses cases have a fabric covered lining to protect the eyeglasses from scratches. Some glasses cases have foam end pads to provide extra protection to the frame.
Depending on where you store your case, you may want to choose a rigid plastic glasses case or one made from another sturdy material. You might also want to consider a glasses case that is water resistant. Some cases are even designed to hold two pairs of glasses, which is handy for reading glasses or sunglasses.
Others are made from neoprene, a foam sponge, which will float. Active glasses wearers may want a glasses case that has a carrying strap or loop that will attach to your belt. Another special feature of some glasses cases is a pocket that contains a soft cloth for cleaning.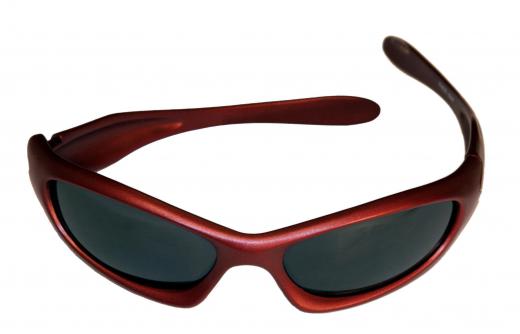 There are other steps you can take to protect your eyeglasses. Those who play sports may want to use a strap to keep glasses in place. Using a chain or strap to hold reading or sunglasses when not in use reduces the frequency of scratches and the likelihood of misplacing glasses. To clean eyeglasses, use regular soap and water. Be sure to wet the lens first. Rinse the lenses under running water.
Don't use tissue or toilet paper to clean dry lenses, as either can cause scratches. Glass cleaning products should not be used on plastic or polycarbonate lenses because they can cause cloudiness. Frequently check screws; loose screws can cause a lens to pop out of the frame. Use both hands to remove your eyeglasses to avoid damaging the frame.
When you decide your glasses case is no longer suitable, you can always recycle it. Use your old glasses case as a pocket protector or as a cell phone case.
AS FEATURED ON:
AS FEATURED ON:







By: Nikolay Pozdeev

Eyeglasses.

By: Thorsten

Some glasses cases have a special section for sunglasses.

By: Miravision

Children's glasses are smaller than typical glasses and may require a smaller case.

By: philip kinsey

Some cases hold two pairs of glasses, which may be useful for people who need reading glasses.