Best Hair Moisturizer for Black Men
Our Picks
Who said hair care was just for women? While hundreds of products and commercials are geared towards female hair care, it's just as important for men to look after their locks. In fact, men have just as many hair care challenges as women, especially when it comes to moisturizing. Whether you have straight or braided hair, loose or curly hair, it can be particularly challenging for Black men to keep their hair moisturized. To top that off, many hair care products such as petroleum-based products can damage naturally black hair.
With the overwhelming amount of hydrating conditioners, moisturizers, and shampoos on the market for Black men, it can be difficult to nail down which is the best product for you. That's where we come in. Everyone has a different daily hair care routine, and how you treat your tresses will largely depend on your hair type, style, and the environmental factors you are exposed to on a daily basis. Luckily, there are a wide variety of products available that are each geared towards different hair types and styles. To save you some precious time and stressful searching, we've compiled a list of the best hair moisturizers for Black men, broken down by hair type and style. Happy moisturizing!
What To Look For In Hair Moisturizers For Black Men
When you're scanning the aisles at your local drugstore, how are you supposed to know what the right hair moisturizer is for you? Here are a few simple tips and tricks to keep in mind before you make your purchase.
Figure Out Your Hair Type
A lot of hair moisturizers for Black men will be geared towards a particular hair type, so it's important to have that information handy to make the most informed, purchasing decision possible. If you don't already know what your hair type is, don't worry! Learn more about your hair type using the information below.
Straight Hair: Typically grows without bending and begins to lay down after a certain length
Wavy Hair: Bendable hair that ranges from fine to coarse and forms into waves that are most commonly an "S" shape
Coiled Hair: A loose or corkscrew curl or curly hair characteristic and more susceptible to frizz
Kinky Hair: Most commonly referred to as afro-textured hair that forms very tight, small curls starting at the scalp
Pay Attention to Ingredients
When you are looking at generic haircare bands, some labels might not provide you with as much information as you were hoping for. If you are struggling to decide on which hair care products to opt for, take a peek at the ingredients. Different brands and categories of hair moisturizers for African American hair can hold various ingredients. Some of the most popular ingredients for Black hair include tea tree oil, coconut oil, and argan oil, and shea butter.
How We Chose The Best Hair Moisturizers For Black Men
Many Black men suffer from similar haircare problems, including dry hair. However, we wanted to ensure that this round-up of hair moisturizers for Black men was as inclusive as possible, therefore, we selected moisturizing products that address a wide range of hair types and hair concerns. We are confident that there is at least one hair moisturizer on this list that will suit your needs.
Another factor that we took into consideration was the accessibility and the affordability of these products. These products vary in price, while some are splurge purchases, others are more budget-friendly. All of these products can be purchased on Amazon and other online retailers.
Our Picks For The Best Hair Moisturizers For Black Men
Best for Strengthening: Jack Black Nourishing Hair and Scalp Conditioner
Ranked the #1 Men's Hair Conditioner on the market, Jack Black's Nourishing Hair and Scalp conditioner keeps your hair healthy and hydrated. Perfect for all hair types, this formula is packed with natural ingredients that help to thicken and strengthen hair, adding luster, body, and manageability to your locks. This formula includes Pro-Vitamin B5 which thickens and retains moisture for added volume and shine, and Biotin, which helps strengthen hair. A blend of tea tree leaf oil, peppermint oil, sea kelp, basil, and green tea extract help to simultaneously hydrate and smooth the skin.
This powerful product is formulated without sulfates, parabens, colorants, and alcohol, and is both dermatologist-tested and cruelty-free.
Use: Massage a quarter-size amount into wet hair and scalp. Leave on for the remainder of your shower. Rinse thoroughly.
Ingredients: Pro-Vitamin B5, Biotin, silk protein
Best for Fine Hair: Toppik Hair Building Conditioner
Looking for thicker, more voluminous hair? TOPPIK's Hair Building Conditioner gives thin, thinning, stressed, or damaged hair a fuller look and feel by hydrating hair strands. Some of the key ingredients in this strengthening formula are keratin, which strengthens and protects hair from breakage, Aloe vera, which soothes the scalp, and meadowfoam seed oil, which enhances the softness and brightness of your hair.
This moisturizing conditioner is the perfect sulfate and paraben-free conditioner to revitalize and treat thin or damaged hair.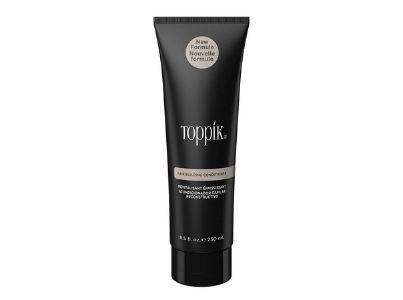 Use: Apply conditioner to hair once it has been shampooed. Allow it to sit for 60 seconds before rinsing thoroughly. Style your hair as usual.
Ingredients: Aloe vera, keratin, panthenol
Best for Thick Hair: Jack Black – Double-Header Shampoo + Conditioner
If you're searching for a 2-in-1 moisturizing shampoo and conditioner, Jack Black's Double-Header has got you covered. This creamy, sulfate-free formula removes oil and product build-up throughout your hair, while also lightly conditioning, detangling, and soothing the scalp. Showering will never feel as effortless as it does with this multi-purpose formula.
Designed for coarse hair and thick hair types, this coconut and peppermint-scented formula is packed with a slew of natural ingredients, including creatine, an amino acid that increases the strength and shimmer of your hair, and coconut oil, which provides nourishing hydration and detangles even the thickest of tresses. A blend of sage leaf extract, green tea extract, basil, sea kelp, and peppermint oil leave your scalp feeling cool, soothed, and refreshed.
Use: Massage a quarter-size amount of the formula into wet hair and scalp. Rinse thoroughly.
Ingredients: Creatine, rice seed protein, coconut oil
Best Shampoo: Joico Moisture Recovery Moisturizing Shampoo
Looking for a moisturizing shampoo? Joico's Moisture Recovery Moisturizing Shampoo will make all of your dreams come true. This luxurious formula utilizes natural ingredients to both cleanse coarse and thick hair, as well as provide 24-hour moisture replenishment to your parched locks. When applied, this indulgent shampoo will saturate dehydrated hair with intensive moisture, sealing it into each strand. Not only will your hair look instantly replenished, shiny, and healthy, but this shampoo also doubles your hair softness, and also makes it three times less prone to breakage.
Some of the key ingredients include sea kelp, which provides moisture and vital nutrients to your scalp, and jojoba oil, which helps add moisture and shimmer to your tresses. In 2020, this shampoo was honored with the "Best Pro Shampoo and Conditioner for Moisture" award by Glamour.
Use: Apply to wet hair. Lather and Rinse.
Ingredients: Sea Kelp, Jojoba Oil, Shea Butter
Best for Coarse Hair: As I Am Double Butter Cream Moisturizer
This double buttercream formula from As I Am is a game-changer for coarse and thick Black hair. As I Am is a popular brand among the Black community, and their Double Butter Cream is certainly worth trying. Formulated with the finest natural butters and organic oils, this daily moisturizer is enriched with numerous hydrating ingredients to keep your hair feeling soft and moisturized. The butter-like texture deeply penetrates your hair, giving you soft and shiny curls after just one use.
If you are attempting to revitalize extremely dry hair, this is the hair product for you. Additionally, this hydrating hair moisturizer is also enriched with pro-Vitamin B5, which helps strengthen hair and mend split ends and hair breakage. What's more, this thick, cost-effective formula only requires a small amount with each use for best results.
Use: Apply a desired amount of formula to your hands and scrunch it into your hair to enhance the curly structure. Keep in mind, when it comes to this formula, less is more. You can also use this butter to set twists and twist-outs.
Ingredients: Pro-vitamin B5, shea butter, coconut oil
Best for Thinning Hair: Cantu Shea Butter Leave-in Conditioner
Designed expressly for men, Cantu is a haircare line known for making affordable and effective hair products for African American hair. This leave-in conditioner uses a blend of shea butter to moisturize and hydrate each strand of hair, hemp seed oil to improve elasticity, and caffeine to promote hair growth and reduce shedding. Many users have reported that this hair moisturizer especially helped them with receding hairlines. This product is free of harmful ingredients including sulfates, parabens, and mineral oil.
This easy-to-use product can be effortlessly incorporated into your everyday routine. Keep in mind, if you have longer hair or thinning areas you will want to apply more product to your hair. Take note: this product is not fragrance-free; it has a mild coconut scent that some customers do not find appealing.
Use: Apply to ends of damp hair and work towards your roots. Comb your hair to distribute the product evenly. If you want to go all the way, apply this hair moisturizer to damp hair and cover your hair with a plastic cap overnight for maximum absorption and intense conditioning.
Ingredients: Shea butter, hemp seed oil
Best for Curly Hair: Carol's Daughter Hair Milk
This original Hair Milk by Carol's Daughter is a leave-in moisturizer, specifically designed for curly hair. Whether you have curls, coils, or kinks, this rich hair moisturizer quickly and easily absorbs into your hair leaving it looking glossy, nourished, and frizz-free. This moisturizing cream can also be used to lightly define curls, leaving your hair soft and not greasy.
Free of harmful ingredients for African American hair such as petroleum, parabens, and sulfate, this specialized, lightweight formula uses ingredients geared towards curly hair types, including shea butter, soybean oil, and agave nectar. The shea butter is designed to intensely hydrate curls and coils, the soybean oil softens and strengthens your hair, while the agave nectar ensures that your hair retains necessary moisture. An added bonus? This cleansing conditioner will also remove unwanted debris from your hair, as well as help detangle your curls.
Use: Apply a quarter-size amount into soaking wet hair, massaging it evenly with your fingers. Use your hands or a towel to squeeze out excess water for the best results. Add more formula to hair if necessary.
Ingredients: Shea butter, agave nectar, soybean oil
Best for Frizzy Hair: Maui Moisture Vanilla Bean Hair Butter
With a relatively buttery consistency compared to other products mentioned, this restorative treatment cream from Maui Moisture is a premier product for Black male hair. This repairing hair moisturizer contains a blended mixture of aloe juice, coconut water, coconut butter, and vanilla bean to produce a creamy finish that works like a dream for members of the dry hair club.
Specially formulated for individuals with frizzy and unruly hair, this product also contains kukui nut oil, an ancient Hawaiian ingredient that possesses strong humidity-resistant properties. Kukui nut oil also helps lock in whatever moisture is already inside your hair. This gentle, moisturizing formula is also vegan and free from silicones, parabens, mineral oil, and synthetic dyes. It works as both a deep treatment or a leave-in conditioner.
Use: After shampooing, apply a small amount into the palm and evenly distribute it throughout your wet hair, starting at the roots. For best results, allow the steam from the shower to soak into the hair. Leave it in for 5 minutes before rinsing.
To use as a leave-in conditioner, apply a small amount to damp hair. Comb or use fingers to detangle each strand. Style your hair as normal.
Ingredients: 100% aloe vera, vanilla bean, kukui nut oil
Best for Hair Growth: OKAY Black Jamaican Castor Oil
When it comes to hydrating products for Black hair, leave-in conditioners are extremely popular. OKAY's Black Jamaican Castor Oil is another fan-favorite product that does wonders for hair loss and dry hair. New hair growth is visible after only one month of using this formula.
One of the key ingredients in this moisturizing formula is Black Jamaican castor oil, which helps prevent hair fall and encourages the growth of new hair for dry, brittle, stressed, and thin hair types. Additional ingredients in this conditioner include Argan oil and shea butter, which is the perfect blend of ingredients to keep your hair lush, healthy, and hydrated. This winning combination also improves blood circulation in your scalp to help important nutrients penetrate your scalp. Purchasing this deep conditioning treatment is sure to keep your hair healthy, and lead to thicker, fuller, shinier, and more manageable hair in a pinch. This formula is also paraben, silicon, sulfate, and cruelty-free.
Use: Apply and leave in your hair daily for best results. For a deep treatment, spread oil over your hair and wear a cap. Sit under a hood dryer or apply heat for 30 minutes. Rinse hair after with warm water. Repeat this one to two times a week for best results.
Ingredients: Black Jamaican castor oil, Argan oil, shea butter
Best for Dry Scalp: Tgin Butter Cream Daily Moisturizer for Natural Hair
Thank God It's Natural (Tgin) Butter Cream Daily Moisturizer is regarded as one of the best hair moisturizer products on the market for Black men. This daily buttercream moisturizer is part of their Moist Collection which includes formulas packed with essential oils and vitamins that help individuals regain lost moisture in their hair.
Particularly beneficial for ultra-dry hair, this moisturizing lotion has numerous hydrating benefits. Formulated with shea butter, this multi-functional cream helps hair retain moisture by locking moisture in starting at the roots. The hydrating properties in this hair care formula help users maintain long-lasting moisture and natural shine. Tgin's butter cream also includes vitamin E-rich nutrients, which improve scalp blood flow and prevent hair loss. Last but not least, this buttercream formula also helps brighten, smoothen, and soften rough hair, providing African American hair with a nice and shiny shimmer.
Use: Evenly apply the moisturizer to damp hair, starting from the roots. If you are looking for more definition, apply more moisturizer. Style your hair as normal. This product also works great for twist outs and braid outs.
Ingredients: Shea butter, vitamin E oil, cocoa butter