How Can I Be Less Frumpy?
Many people strive to be less frumpy and more fashionable. The term "frumpy" is used to describe a person, generally a woman, who wears old-fashioned or dowdy clothing, doesn't style her hair, and wears little or no makeup. Someone who just has a homely, drab appearance overall may also be called frumpy. Both young and old individuals can be frumpy, but these qualities tend to be more common in older persons. There are several ways one can combat frumpiness and achieve a more fashionable and hip look, but it will take effort and a more style-conscious attitude.
An individual's choice of clothing is one of the most important aspects of achieving a stylish look. Frumpy people tend to choose outfits that are outdated, poorly-fitting, or just plain unfashionable. Clothing that is too big or baggy can also make a person appear frumpy, even when this was not her intention. To avoid giving this impression, it is best to choose outfits that are up to date and sophisticated. Outfits should fit the body and should be neither too big nor too small.
Someone who is style-conscious will take pride in her appearance and will put effort into choosing her daily outfits. It is often easier and more convenient to throw on a pair of sweatpants and an old tee-shirt to run to the grocery store, but doing so often results in a sloppy appearance. When an individual does not put any effort into her appearance on a regular basis, she may be seen as frumpy and may be assumed not to care about how she looks. For those who want to avoid looking plain or dowdy, it is therefore important to dress fashionably and put effort into clothing choices.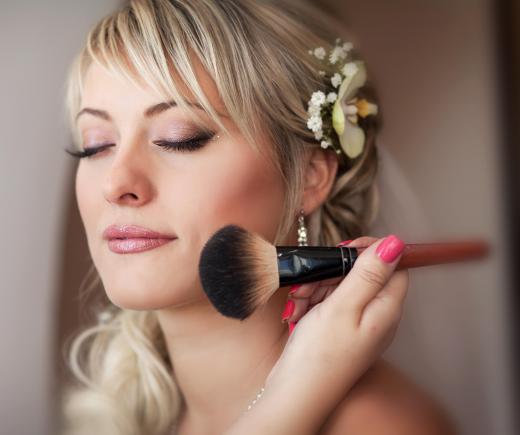 A person's hairstyle can also make her appear unfashionable or dull. Although not everyone has the time or patience to spend hours fussing with a hair style, it is best to at least groom the hair so that it looks polished and tidy. Hair that is unkempt, frizzy, or otherwise sloppy can make a person look outdated or lazy. In addition, old-fashioned haircuts and styles can make a person appear unstylish. For this reason, many who strive to be less frumpy often choose more modern haircuts.
For women, the use of properly applied makeup can enhance the appearance. Not everyone needs to pile on loads of makeup to look fashionable, but using a small amount of foundation, powder, blush, and mascara can brighten up the face. It also shows that a person takes pride in her appearance, which is important for those who want to look stylish.
AS FEATURED ON:
AS FEATURED ON:







By: bst2012

Properly applied makeup can help make a woman look less frumpy.

By: armina

A makeup artist can give a client a makeover that is designed to update her look.

By: bedya

Mascara can be used to brighten up the face.

By: artivista | werbeatelier

An individual may be referred to as being frumpy if he or she does not put any effort into appearance on a regular basis.