Mascara is a type of cosmetic applied to the eyelashes. It serves to thicken and define the eyelashes and may also color, lengthen, or curl them, depending upon the type. It's usually sold as a liquid cosmetic in a tube and applied with a round brush called a wand. However, cream and cake versions also exist. Before tube and wand type was introduced in 1957, mascara was primarily sold as a cake, but it was also sometimes sold in small tubes.
Cosmetics have been used to darken the eyelashes and eyebrows in many cultures since ancient times. The Kama Sutra, a 4th century CE Sanskrit text on love and lovemaking, includes an eye makeup recipe, and ancient Egyptians and Romans used eye cosmetics as well. Eugene Rimmel, a French perfume magnate, was the first to commercially market mascara in the 1830s, and his name is co-opted for as the word for "mascara" in some languages. Many people continued to make their own versions of mascara, and some were marketed locally, but the next significant industry innovation took place in in 1913, when T. L. Williams, the founder of Maybelline cosmetics, combined coal dust and petroleum jelly to produce cake mascara that was applied to the lashes with a moistened brush. Subsequent versions were composed of wax and colorant. Helena Rubenstein pioneered the now ubiquitous tube-and-wand version in 1957.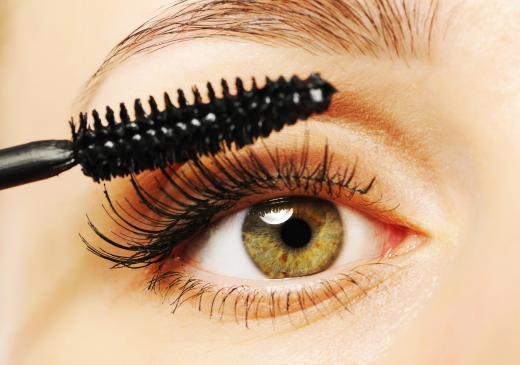 Today, there are many different mascaras on the market. There are clear mascaras and primers that thicken the lashes without adding color, as well as colored mascaras in many different colors. Waterproof mascaras prevent smudging, help the lashes retain their curl, and reduce the tendency for lashes to clump together. Volumizing and lengthening mascaras include nylon or rayon fibers that act as temporary extensions for the eyelashes. Some mascaras contain conditioners like pro-vitamin B5, more commonly seen in hair conditioners.
Mascara can be applied to all the eyelashes, but some people use it only above the eye. Wiggling the applicator brush at the base of the lashes can help make the lashes appear fuller, and moving the brush in a zig-zag pattern to the end of the lashes can help reduce clumping. It's best to apply any second coats before the first coat dries to avoid clumping.
Because mascara is used on such a delicate part of the body, it is important not to keep a tube around too long, as using old products can introduce bacteria into the eyes and cause serious health problems. Most commercial mascaras include an antibacterial agent that lasts about six weeks, and anything over four months old should definitely be replaced. Any product that makes eyes feel irritated or has a change texture or smell should be discarded.
AS FEATURED ON:
AS FEATURED ON:







By: haveseen

A woman applying mascara to her eyelashes.

By: Africa Studio

Mascara is a makeup that is applied to the eyelashes.

By: bedya

Using old mascara can introduce bacteria into the eyes and cause serious health problems.

By: beornbjorn

Smudge and waterproof mascara may not run as easily as other types.

By: Minerva Studio

Eyeliner can be used to enhance mascara applied to the eyelashes.

By: Antonioguillem

Mascara should enhance a person's eye color.

By: Eireann

Mascara can temporarily change the color of eyebrows.