How Do I Choose the Best Anti-Cellulite Shapewear?
Anti-cellulite shapewear is a popular option for women who suffer from cellulite bumps that affect the way the skin looks under clothing. Shapewear such as this is usually worn either as underwear or directly on top of the underwear, underneath the outer clothing. Finding the best option for you depends on the method of cellulite reduction you prefer and the areas you would like to treat.
First, decide what kind of of anti-cellulite shapewear you would like. Different brands and styles use different technology to reduce cellulite. Some kinds use simple compression to shape the body into a smoother silhouette and temporarily reduce the appearance of cellulite lumps while the user wears the garment. Others use special fabrics or treatments to attempt a more permanent solution, melting, dissolving, or otherwise removing the fluid in the affected cells, which makes them appear flatter and less lumpy.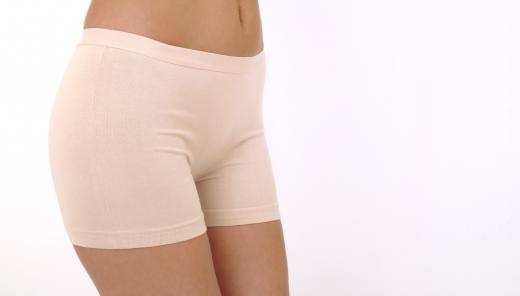 Wearing compression garments underneath the clothing can not only reduce the lumpy appearance of cellulite but also create a slimmer, more firm and toned appearance. Some brands of anti-cellulite shapewear advertise that users can fit into a smaller dress size while wearing the item. Additionally, a frequently used selling point for compression-style anti-cellulite shapewear claims that the increased circulation caused by the compression and support can help promote muscular endurance and athletic capability and lend a more fit, toned look that will reduce the appearance of cellulite over time.
The type of anti-cellulite shapewear you choose will depend most of all on the area you would like to treat. Many women wish to reduce cellulite on the thighs, buttocks, and legs, however, others are more concerned with the abdomen and love-handle areas. The majority of anti-cellulite shapewear is made to cover the thighs and buttocks at least, and some extend all the way down the leg to the ankle. Sometimes the shapewear garment is also designed to reach to the navel, to cover the lower abdomen, or all the way up to the ribcage to ensure that any problem areas in the torso are covered.
It is always ideal if you can find anti-cellulite shapewear in a store so you can try on different sizes and styles before purchasing them, however, it is much easier to find cellulite reducing garments online. It is important to read plenty of reviews for an item before buying it, because some of these products tend to be expensive and difficult to return. Reviews from other users can tell you if a specific product runs smaller or larger than normal, whether there are any problems with the item's durability and construction, or whether it might be uncomfortable after all-day wear.
AS FEATURED ON:
AS FEATURED ON:







By: photo25th

Wearing compression garments underneath clothing can create a slimmer, more toned appearance.

By: zest_marina

Anti-cellulite shapewear may be made from similar material used to make compression garments.