What are Foundation Garments?
When Miss Scarlett directs Mammy to pull her corset strings tighter in Gone with the Wind, she is essentially using a foundation garment, the corset, to achieve the smallest waist in the county. Foundation garments of many types are used to change one's shape so that clothing worn over them show off the figure to its best advantage. They can range from the highly restrictive corset to simple brassieres, girdles or support garments like the popular Spanx®.
Foundation garments, which may be alternately called shapewear, have undergone many changes throughout the centuries, but they all provide a body foundation, upon which clothing is built. They're by no means miracle workers. If you wear a size 14, a girdle will not have you wearing a size 2 no matter how much you might like it to achieve that affect. But some foundation garments can pull in the waist slightly, make the thigh or buttocks appear lifted or smoother, and of course lift the breasts, making them appear supported, and smaller or bigger.
Some typical foundation garments you might find today include the following:
Bodysuits- Usually long sleeved garments that have a snap crotch. These may contain some elastic but provide minimal hold.
Girdles- Underwear with long, boy short length legs that generally have panels to hold in the stomach, to lift the rear, and to make the tops of the thighs a little smaller. These may fit slightly above the waist to minimize love handles.
Body Briefers or All in Ones—Similar to a bodysuit but without sleeves. These usually feature a cup bra, with underwire, may have boning, a snap crotch and stretch or Lycra panels to pull in the buttocks, tummy and waist. Body briefers may feature a boy short leg or a typical full underwear leg.
Bras—Of any type, made to provide at least some lift to the breasts, and also a bit of stability.
Control Underwear—Similar to the girdle, but stop at the top of the leg instead of covering the legs.
Control panel nylons—Nylons with a Lycra panel that helps keep the tummy in. Spanx® are built on this same principle but hit above the waist by an inch or two, and do not feature feet, ending just above the knee.
Some foundation garments are uncomfortable, while others, when properly fitting are enjoyed by women as a means to hide a few of what they consider to be figure flaws. As a whole, trends in foundation garments has moved away from the highly restrictive garments like all in ones, toward much more minimal garments like Spanx® or control top underwear because they are lighter and more comfortable to wear.
On the other hand, building support into women's bras can still prove fairly restrictive, and the current "look" many women want to achieve is a gravity defying one. Bras like the Wonderbra® were celebrated for providing cleavage where very little existed. For women with large breasts, achieving appropriate support may only be had through underwire, which depending on the bra, may be uncomfortable.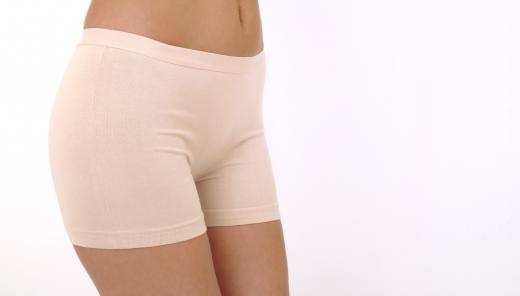 In all cases, foundation garments tend to move the female toward the figure form she considers ideal. In each generation, there exist people who want nothing to do with ideal form. From the 1920s flappers who eschewed restrictive foundation garments, the bra burners of the 1970s, and the modern young woman who may laugh at corsets, deciding on what the "ideal" form actually is, is a matter of opinion. Some women prefer to be seen in a more natural light, and prefer no underwear or foundation garments of any type and others use the minimum undergarments. Still others wouldn't feel properly dressed without an ironclad all in one supporting their form.
AS FEATURED ON:
AS FEATURED ON:







A woman wearing a bra, a type of foundation garment.

By: Natis

A corset is a type of foundation garment.

By: photo25th

Spanx is a type of body hose that is made to give the stomach, hips and thighs a more slender appearance.

By: venusangel

A girdle is a foundation garment that helps to give a woman the appearance of a flat tummy.

By: vladimirfloyd

Wearing Spanx under a tight dress will eliminate any bulges.