How Do I Choose the Best Boar Bristle Brush?
When choosing a boar bristle brush, you should consider several factors, as they are available in various shapes for all hair types. Your hair texture, style and length will help you determine whether you need a flat, round, or combination boar and synthetic hairbrush. If you have medium to long hair, try a large brush with long bristles to remove oil and residue. A combination hairbrush made of boar bristles and tufted synthetic fiber works best for coarse hair. Your professional hairstylist can suggest one that will work best for you.
For very fine or limp hair, you should purchase a large, round natural boar bristle brush. Read the label to ensure it is made with 100% wild pig hair or natural boar's hair. This type of hairbrush will add volume, especially when used as a styling tool.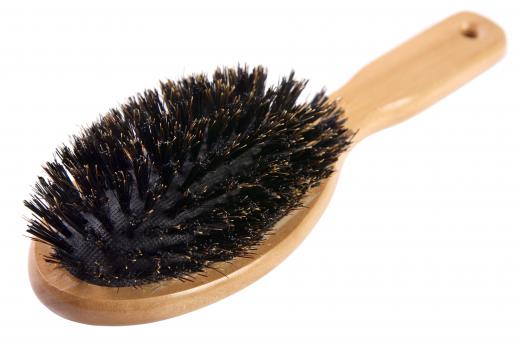 Additionally, a round brush can help define curly hair. If you use a styling gel, brushing your hair with this type of brush will prevent your curls from falling flat. Always read packaging for information, as it should state if the brush is intended for curly hair.
Thick, frizzy, or unruly hair can be brushed with a paddle-style boar bristle brush. Regular brushing will add shine, as this type smooths away frizzies. Your paddle brush should be made of natural boar bristle and nylon material. To avoid further damage to frizzy hair, do not use the brush while your hair is damp or wet.
If your hair is short, avoid using a very large, round brush. You can choose a round one if you prefer, but it should be small in diameter. A small, flat, or paddle-style brush is good for short and thick hair. A compact sized model is also convenient for travel and for trips to the gym.
The construction of your hairbrush is as important as the shape and size. Avoid brushes that have a cheap plastic handle, as this can warp or break over time. Beech wood or satin wood are both preferred, as they are generally durable and not likely to crack. Some natural boar bristle brushes have ergonomic handles, making them comfortable and easy to grip, as well as helping to avoid stress on the wrist as you style and brush your hair.
AS FEATURED ON:
AS FEATURED ON:







By: Leonid Nyshko

Boar bristle brushes effectively smooth, lift, and help redistribute oil throughout the hair.

By: Laurent Hamels

Using the wrong type of brush can cause damage to the hair and scalp.

By: indiraswork

A paddle-style boar bristle brush can help to tame and smooth curly hair.