A lip brush is a makeup application tool. It is used to apply lipstick or lip gloss evenly to the lips. A lip brush typically has short, soft, smooth bristles, which are often retractable to prevent damage in a bag or makeup case. There are many good reasons to use a specially designed brush to apply lipstick or lip gloss, instead of directly from the tube.
Using a lip brush to apply lip cosmetics allows one to use less of the lipstick or lip gloss. A brush allows the cosmetic product to be applied lightly, smoothly, and evenly without needing to apply multiple coats. Lip brushes are designed to apply lip cosmetics with precision, preventing the smudging of lipstick outside the lip line.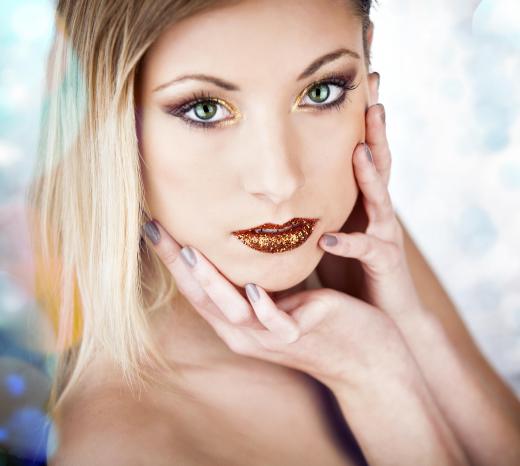 In addition, a lip brush is often used to blend lip liner and lipstick together on the lips. This application technique prevents the lip liner from looking too severe and defined, giving a more natural appearance to the lips. As most professionals know, blending makeup is the only way to make it look soft and natural, professional-looking, but not overdone.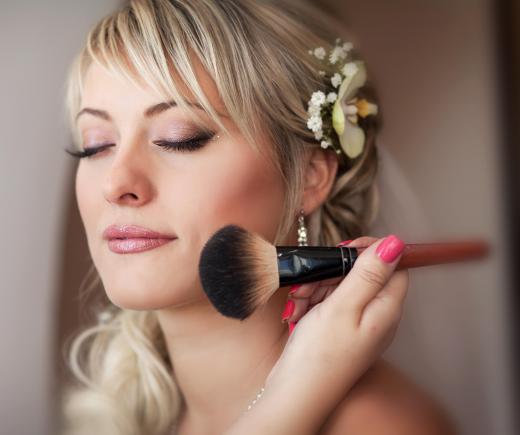 A lip brush may be dipped right into a lip gloss tin or tube of lipstick, though some choose to squeeze a small amount of lip gloss onto the back of their hand or onto a makeup tray and dip the brush into it that way. It is important to never share lip brushes with anyone else. In addition, it may be a good idea to have one or two lip brushes for darker cosmetic colors, as well as one or two for lighter colors, to prevent unwanted mixing.
It is necessary to regularly maintain and clean lip brushes by washing them gently with warm water and shampoo. After they are washed, reshape them and lay them flat to dry. Lip brushes should be replaced at least once a year, as with any other makeup application tool. It may be necessary to replace them more often if the bristles start to fray or become stiff, however.
Lip brushes may be found in the cosmetics section of most stores. They may be sold individually, or in packs of other makeup application brushes for the face and eyes. When purchased individually, a lip brush is comparable in price to any other makeup application brush. It is a good idea to purchase a retractable lip brush unless it is certain that it will always be kept safely in a case.
AS FEATURED ON:
AS FEATURED ON:







By: Nicola_Del_Mutolo

Lip brushes can apply makeup evenly to the lips.

By: armina

When shopping for a lip or other makeup brush, choose the highest quality that you can afford.

By: alex83ch

A lip brush can be used to help blend and soften lip liner and lipstick.

By: Leonid & Anna Dedukh

More expensive brushes may last longer than the cheaper ones, but it is also possible to get a good-quality brush for a low price.