How Do I Choose the Best Eye Repair Creams?
When choosing between the various eye repair creams on the market today, you should consider what you need the cream to do for you. Some creams focus on just one problem such as puffiness, sagging skin, wrinkles, or dark circles, so defining the problems you want fixed should be the first step. Finding ingredients that will target the problems you have should be the next step, or you could opt for an all-round product. The consistency of the eye repair creams should be considered as well as your skin's reaction to it, so try to get a sample before you purchase.
Eye repair creams can help fight puffiness, and this can be helpful if you have bags under your eyes or puffy-looking skin. Ingredients that fight puffiness are usually found in day eye repair creams, because puffiness is a problem that is most pronounced in the mornings. A cream that contains dehydrating ingredients such as cucumber, chamomile or coffee extracts may be helpful.
Some eye repair creams can also work by tightening the skin, and you may benefit from collagen-boosting ingredients such as copper peptides or escin if you'd like to firm up the skin around the eyes. When shopping for a firming cream, it is best to steer clear of products that contain synthetic collagen. These collagen molecules may not penetrate into the skin as well, and if it does get absorbed it may not give lasting results. The trick is to help your skin regenerate by encouraging it to produce its own collagen.
Eye repair creams that contain retinol or alpha hydroxy acids (AHAs) may help to minimize the appearance of fine lines or wrinkles around the eye area. Most night creams contain these ingredients, so if you're struggling with wrinkles, it may be best to get a night cream instead of a day cream. Also, you shouldn't use a night cream during the day time because ingredients such as retinol may interfere with your sunscreen. AHAs may also increase your skin's sensitivity, so sun exposure may not be the best thing after you've applied this type of cream.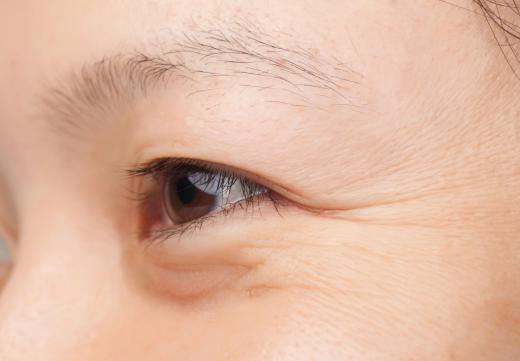 If you have dark circles under your eyes, you should look for products that constrict the capillaries around the eye area. The skin is thinner here and reducing the size of the capillaries may reduce the dark appearance of the skin. Another way to fight dark circles is to flush out the toxins and hemoglobin by-products from the skin around the eyes. Look for ingredients such as Vitamin K and retinoids.
Choosing from the list of ingredients above may help you target specific problems, but you could also opt for a product that has an all-purpose effect. This could be a better option if you want to improve the appearance of the skin around the eye area and don't have any significant problems with sagging, puffiness, wrinkles, or dark circles. All-purpose eye creams may not be as effective on specific problems, but may still deliver results.
The consistency of the eye repair cream you purchase is also important. Experts say that the ideal eye cream should be a good base for your makeup. This means that if the cream is thick enough to make your makeup clump, it's too thick. You might want to try an eye repair gel instead of a cream as they are generally lighter and may still allow the skin to breathe.
When you have decided on a particular eye repair cream, it is best to get a sample before purchasing the full-sized product. Doing this will give you an idea of how your skin will react to the product, and doing a sensitivity test will help minimize the risk of any allergic reactions. Always ask if samples are available. Some representatives or retailers have samples their customers can try before buying a product.
AS FEATURED ON:
AS FEATURED ON:







By: Coprid

Eye repair cream.

By: WONG SZE FEI

The consistency of the eye repair creams should be considered as well as a person's skin's reaction to it.

By: phasinphoto

Creams with alpha hydroxy acids may help reduce fine lines and wrinkles.