How Do I Choose the Best Foundation for Pores?
Makeup foundation is typically designed to smooth the surface and color of the skin to give an even appearance. If you have large pores, you may have difficulty wearing foundation without your pores standing out. As a general rule, it is best to choose makeup that will flatter your skin type to keep the pores from showing up even more. Oily skin, for instance, needs a foundation for pores designed to minimize the shine. Most people with large, prominent pores also may be prone to breakouts, so choosing a foundation that will not clog pores is important.
There are pore-concealing foundations available that help smooth the appearance of the skin and hide large pores. Even these can look bad if they are applied incorrectly, however. A powder foundation for pores, for instance, might only enhance the dryness of already dry skin. This will draw attention to imperfections and pores. Liquid foundation used on oily skin may highlight imperfections as well, unless it is specifically designed for oil control.
Larger pores are usually more prone to collecting dirt and oil. Foundation for pores is generally non comedogenic and nonacnegenic, which means the makeup will not typically clog pores. Most foundation makeup today is oil free and designed this way because clogged pores often lead to such conditions as blackheads and acne breakouts. Even though most products are designed to keep pores clean, it is generally best to choose those that say they are non comedogenic and oil free on the package.
If your skin is dry, look for foundation for pores with moisturizing qualities. These will usually be water-based, but may contain some emollients and ingredients that can help reduce the dry, flaky appearance that can enhance pores. Powder foundation for pores may be a good choice for people with oily skin. Read the instructions for use carefully, as most are not applied like a typical powder but put on slightly damp for an even finish.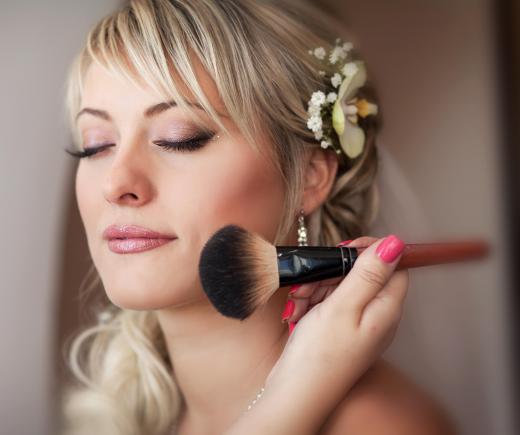 In addition to foundation for pores, you may also want to choose a pore minimizing product to use underneath your makeup. There are also makeup primers that are designed to provide a good base coat for foundation. No matter which products you use, it is typically best to avoid creating a thick layer or more than one layer of foundation. A thinner application is more likely to disguise large pores, while thick layers may make them more visible. Instead of adding more foundation during the day to touch up makeup, try a little loose powder to absorb oil and help prevent a caked, layered look that makes pores more obvious.
AS FEATURED ON:
AS FEATURED ON:







By: Mara Zemgaliete

Liquid foundation.

By: soupstock

Non-comedogenic makeup is designed to avoid causing acne.

By: armina

Face foundations are formulated to smooth the skin's surface and provide a base for other face makeup.

By: mikelaptev

Pore-concealing foundations generally help smooth the appearance of the skin and hide large pores.

By: micromonkey

The shade of foundation is typically chosen based on an individual's skin tone.

By: Tanouchka

It is important to wash the face thoroughly each day after applying foundation.

By: Doruk Sikman

Larger pores are usually more prone to collecting dirt and oil.