Big pores are a common complaint for many women as these get in the way of achieving that perfect glowing complexion. Products and treatments exist for shrinking them and have varying success rates. Fortunately, hiding big pores completely is only a few makeup tricks away, such as using makeup primer, a water-based foundation and translucent powder on your face.
Before applying makeup, it is important to prepare your skin first. A weekly exfoliation of your skin will remove dead cells from the surface, giving it a healthy glow and lessening the depth of big pores. Next, use a cleanser and toner that are appropriate for your skin type. A gentle, non-alcohol-based cleanser will remove excess oil and dirt from your skin without irritating it, and the toner will tighten your skin and shrink large pores.
It also is recommended that you use a moisturizer before applying makeup, even if your skin is naturally oily. Moisturizing your skin will ensure that it stays hydrated and soft even under makeup and will make it easier for you to apply foundation. Using a moisturizer that has a high sun protection factor (SPF) will help protect your skin from ultraviolet light and harsh weather. Be sure to remove excess oil from your pores before beginning the application of makeup.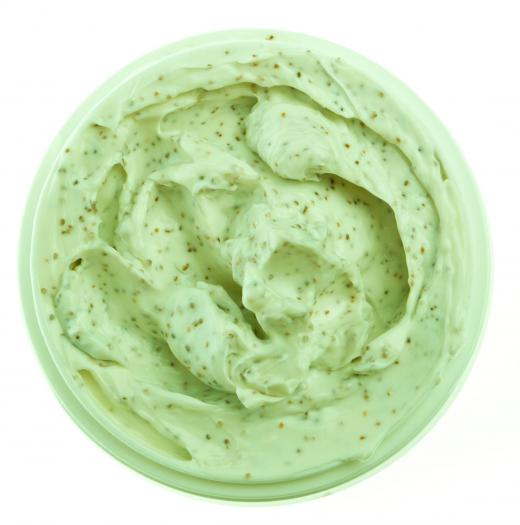 For the next step, cover your face evenly with makeup primer. The primer will hide big pores and absorb excess oil from oily skin, giving your skin a smooth, finished look. Be sure to select a primer with a silicone base in order to avoid clogging your pores. Use a soft sponge to apply the primer, and avoid using your fingers. This is because using your fingers might cause the primer to streak, and the warmth from your fingertips can cause your pores to expand while applying the primer.
Next, apply a water-based, oil-free foundation uniformly over your face. Place a drop on your forehead, nose, chin and cheeks. Use a makeup sponge to gently spread the foundation from these points evenly over your face and neck.
The finishing touch is to dust your skin lightly with loose, translucent powder. Use a large powder brush to apply it to your face, and be careful to use just a small amount to avoid a mask-like look. The powder will keep your skin looking natural while masking the layers on your face.
You can then proceed with applying the rest of your makeup as usual. Avoid using shimmery makeup on your face, because it can draw attention to big pores. Carry oil-blotting sheets during the day to absorb excess oil on your face, as the shine will likewise draw attention to your pores.
Remember to cleanse your face thoroughly at night before going to bed. Use a cleanser to remove all traces of makeup from your face and neck. Use a toner as well, if your skin is naturally oily.
AS FEATURED ON:
AS FEATURED ON:







By: Mara Zemgaliete

Makeup primer, which can make pores less visible.

By: kubais

Using an exfoliant can help minimize pore appearance.

By: Darren Baker

Clay face masks can be applied to help tighten skin and reduce the size of pores.

By: lightwavemedia

Removing makeup before going to bed is a good way to keep the pores clean.

By: ipag

Some cleansers are designed to shrink pores.