How Do I Choose the Best Hair Tonic?
When choosing a store-bought hair tonic, choose one that is specifically created for your hair type. Seek advice from a professional hair stylist to determine which ingredients will be most effective for your hair. Alternately, you can use a homemade hair tonic made with beneficial ingredients you have at home. Organic hair tonics may also be purchased at most hair salons. These tonics are made with natural ingredients that are less likely to cause scalp irritation.
Hair tonics for hair growth may vary in price and effectiveness. Doing research to learn which ingredients help stimulate hair re-growth can help. You may find that vitamin-enriched hair-care formulas are all you need. Biotin is important for healthy hair, and this can be taken as an oral supplement or found in hair-strengthening shampoos. It is best to consult with a physician if you plan on using oral biotin supplements.
Herbal hair tonics can detoxify the scalp by removing build-up, which in turn can help to stimulate hair growth. These hair tonics typically do not have additives that can damage the hair. Herbal hair tonics may also be a good choice if you have fine or thinning hair. Choose an herbal tonic with a volumizing formula to add body to your hair. Look for ingredients such as horsetail and saw palmetto, both of which nourish and strengthen the hair.
You can make your own homemade herbal hair tonic with dried herbs such as chamomile and flax seed. In addition, consider using a hair tonic made with essential oils. You might be able to purchase essential-oil hair tonic from a salon, or you can make your own.
Many hair-care specialists also recommend using apple cider vinegar on the hair between shampoos. Be sure to mix equal parts with warm water before applying it throughout your hair. Apple cider vinegar is inexpensive, and it can be applied directly from a spray bottle. This natural hair tonic cleanses and conditions the hair. When mixed with a few drops of lavender or lemon essential oil, it will add shine and a pleasant scent.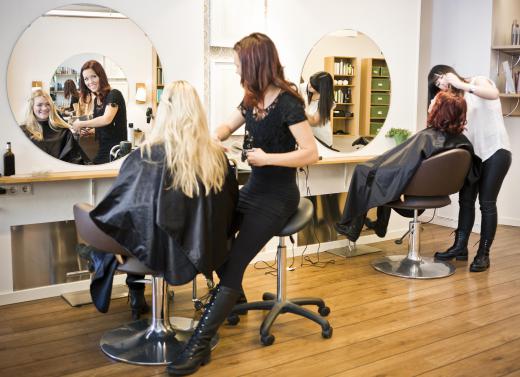 In addition to using hair tonic, remember to massage your scalp vigorously. This helps stimulate circulation and increase blood flow to the scalp. Many hair-care experts agree an intense scalp massage can help promote healthy hair, so do this every time you shampoo.
AS FEATURED ON:
AS FEATURED ON:







By: Comugnero Silvana

It can be beneficial to use apple cider vinegar between shampoos.

By: Elenathewise

Flax seeds, from the flax plant, are ground and added to herbal hair tonics.

By: gemenacom

Hair tonics can be purchased at most hair salons.