Hair wax is a hair styling product that is used to define hair into textured pieces or chunks and manipulate hair into multiple hairstyles. This product, which is very thick and contains some wax, has many names depending on the distributor. Some products go by the names of whip, glue or paste, while others are called putty or pomade. Regardless of the name of the product, they are all texturizers that contain wax and can be considered wax-based hair styling products.
Wax based products are different from water based products like gel and mousse because they don't "dry." They can create the same styles and give the same shine as a gel or mousse, but the hair will remain pliable, unlike gels or mousses which cause the hair to be stiff. The flexibility of wax-based hair styling products allows users to fix and restyle their hair throughout the day by just running their fingers through their hair. Because these products don't have water in them, they don't wash out easily. Regular users should be reminded to use a good quality clarifying shampoo to get their hair completely clean.
It is best to work with hair wax products on clean hair. These products may be applied on wet or dry hair; however, they work better on dry hair. It is important to not add too much product to the hair at once, because the wax will not come out of the hair without washing it. To define waves and maximize peaks in hair, it is better to add a little at a time until the desired look is reached. The application of the product will differ based on its thickness and packaging. Some hair wax products can be sprayed on, but most are applied with fingertips.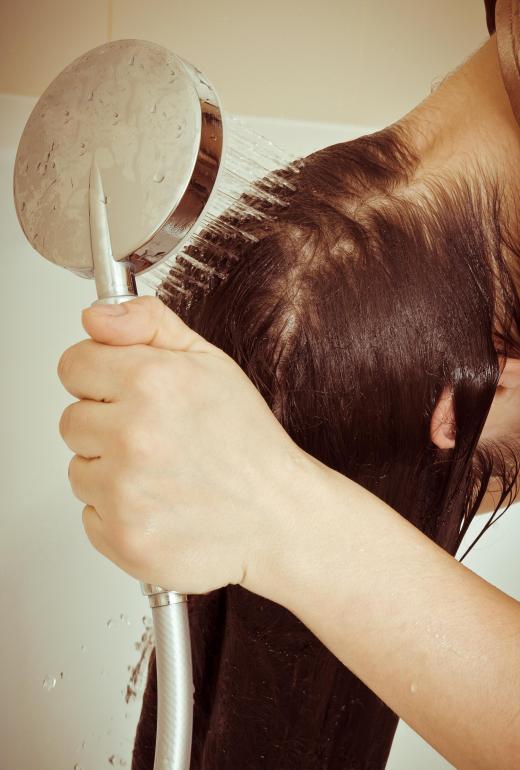 When applying hair wax, hair should be separated into sections with no more than a thumb-size dollop of wax rubbed into each piece of the hair. For a spiky look, the wax must be applied on the strands of the hair one small section at a time. It is also important to remember that different kinds of hair will require different amounts and different types of wax. Hair wax is not recommended to be used on thin or fine hair because it can leave the hair looking greasy and heavy. Textured hairstyles, on both men and women, will work much better with hair wax products.
AS FEATURED ON:
AS FEATURED ON:







By: sytilin

Hair wax can offer shine without the stiffness of other products.

By: Roman Gorielov

Wax does not always wash out of hair, making removal difficult for some users.

By: takasu

Hair wax may be used to manipulate hair into multiple hairstyles.

By: Gennadiy Poznyakov

People who use hair wax often may want to purchase a mild, clarifying shampoo.