How do I Choose the Best Hypoallergenic Mascara?
If you have a makeup allergy, wear contact lenses, or just have sensitive eyes, you might feel more comfortable buying hypoallergenic mascara. Choosing the best product can be a challenge, because "hypoallergenic" is not a clearly defined term. Finding the right mascara for you is often a matter of trying out different brands and evaluating how your eyes respond. Other good strategies include avoiding waterproof and colored mascaras, as well as those that contain fibers. Caring for your mascara properly can also help prevent eye irritation.
For many people who buy cosmetics, the term "hypoallergenic" is confusing. The term technically means that the product does not contain well-known allergens and is less likely to cause a reaction in people with allergies or sensitivities. There is, however, no official standard for determining whether a product is hypoallergenic in the United States and most other countries. This means that there is no single list of ingredients that cannot be used. One cosmetic company's hypoallergenic products may contain the exact same ingredients as another company's regular ones. This means that consumers who suffer from sensitive or allergic eyes need to pay more attention to other label information rather than simply relying on what the packaging says.
When assessing whether a mascara is a good option for sensitive eyes, you should look out for words like waterproof, lengthening, and thickening. The ingredients used to make a mascara with lengthening or thickening powers can irritate eyes. These products often use fibers that can easily flake off and get into your eyes. The same is true for waterproof mascaras. Colored mascaras, particularly those with purple or reddish brown tones, can also trigger an eye allergy, as some people are allergic to red dyes.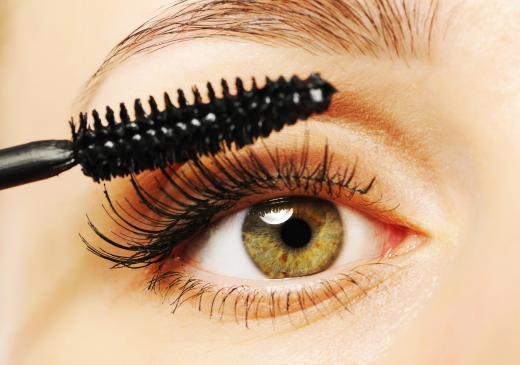 In general, you should look for mascaras that have as few ingredients as possible. The shorter the ingredient list, the better, although some people with sensitive eyes have had success with tube mascaras, which use polymers that form little tubes around eyelashes and cannot flake off. Buy sample sizes or ask for a sample when buying other cosmetics at a department store cosmetic counter. Keep the ingredient list of all the mascaras that you try, as this can help you narrow down those items that give you problems. Keep in mind that even a truly hypoallergenic mascara can get contaminated by bacteria if you leave the tube open or simply let the mascara get old.
AS FEATURED ON:
AS FEATURED ON:







By: Gresei

Special mascara ingredients used for thickening or lengthening lashes can irritate sensitive eyes.

By: haveseen

A woman applying hypoallergenic mascara to her eyelashes.

By: Africa Studio

A person with sensitive skin or eyes should use a hypoallergenic mascara.

By: armina

A hypoallergenic mascara does not contain well-known allergens but may still cause some eye irritation.

By: bedya

In general, a person who has sensitive eyes should seek a mascara that has as few ingredients as possible.