How Do I Choose the Best Panthenol Cream?
Panthenol cream is usually used to repair or prevent mild to moderate skin problems. Choosing the best version of the cream will depend upon the desired result, the intended user, the skin type and the problem. Creams can vary in price and may be formulated for specific uses, such as overnight protection against wrinkles. An additional factor to consider when purchasing a cream is whether it can be supplied by a local store or should be purchased through a respected online vendor.
One of the more important considerations when choosing a panthenol cream is its concentration. Individuals who wish to target difficult wrinkles, fine lines, or moderately damaged skin areas might choose a cream with a concentration higher than 5 percent. The majority of these creams will be manufactured for use on the face, with a few exceptions for formulas designed to be used as an all-body lotion. High concentration creams are typically best suited for aging, dry, or normal-to-dry skin.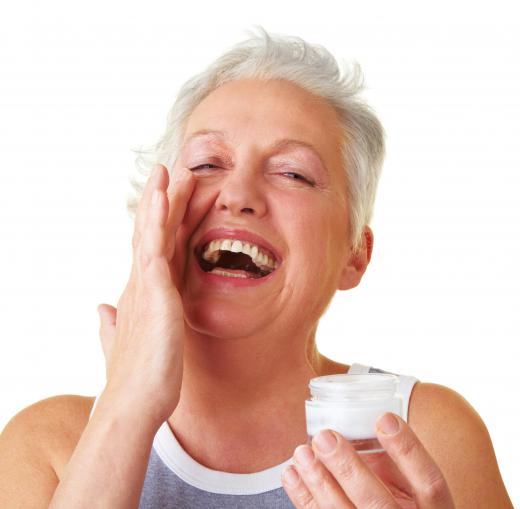 Choosing an appropriate panthenol cream might prove to be more difficult for people with oily or normal-to-oily skin. The benefits of panthenol could best be obtained through a lighter cream designed for daytime use and one that is also non-comedogenic. Less product may be used over a longer stretch of time, which may make a higher price point for a smaller container acceptable. Checking out reviews from other users with the same skin type can help new purchasers narrow their selection, especially in terms of unwanted side effects such as increased breakouts.
Panthenol cream users concerned about fighting the skin's tendency to show visible signs of aging on more than just the face might want to consider selecting a high value product. Some types of the available creams can be applied as an overall lotion and usually have a lower concentration of panthenol, making them more affordable. Additional benefits seen with some types of overall body creams include ingredients such as aloe, which can provide more moisture and protection against surface inflammation.
Some individuals may wish to consider brand name and availability when selecting the best possible panthenol cream. While there are many online sites that sell more than one type of cream, the ability to replenish supplies instantly may be a concern. One of the best ways to find a suitable supplier is to research where and how the cream can be purchased, in addition to each individual supplier's delivery and return policy.
AS FEATURED ON:
AS FEATURED ON:







By: Robert Kneschke

Panthenol cream may be used as overnight protection against wrinkles.