How Do I Choose the Best Pedicure Chair?
Choosing the best pedicure chair is usually a matter of identifying the product that best suits your individual needs when it comes to style, features, and price. It's usually a good idea to do at least a bit of research before making your final selections, as there tend to be a wide range of options in most markets. The simplest chairs are often little more than padded seats, most of which screw into the ground but not always. More advanced options often resemble recliners, and can come with heat or massage capabilities; some even include video or audio programming and controls. Many chairs come with tubs attached for soaking the feet, but again this isn't always standard, and even when it is there can be a pretty wide disparity when it comes to quality of plumbing and drainage. You'll also want to think about how easy the tubs and connected tubing will be to clean and sanitize. In general, the best chair for you is one that will fit your salon or spa both in terms of style and budget. The search really is subjective, and what's best for you may not be best for a colleague or competitor.
Understand the Available Options
The market for pedicure chairs is more robust than might first be imagined. Many salon and spa owners can get discounts when buying chairs and other supplies online, but unless you know a brand or model really well, it's usually a good idea to try to see the chairs in person first — or at least talk with a service representative about the features and how a given product is both similar to and different from other popular models.
An option that you might want to consider in your search is to observe as many chairs as you can in as many different salons as possible. This can give you a sense of how customers respond, how long they typically stay in the chairs, and whether they seem comfortable. If there are trade shows or conventions in your area you may be able to try out various models yourself, too.
Put a Premium on Customer Comfort
Comfort is usually one of the most important features in a pedicure chair. Some of this necessarily depends on the level of service you're providing. Express pedicures are usually a lot different than spa services that can take an hour or more, for instance, and the sort of chairs that work best when all lined up against a wall of a common room may be different from those used in private pedicure suites. Still, thinking about your ideal customer and the environment you want to provide for him or her can go a long way in helping you make your choice.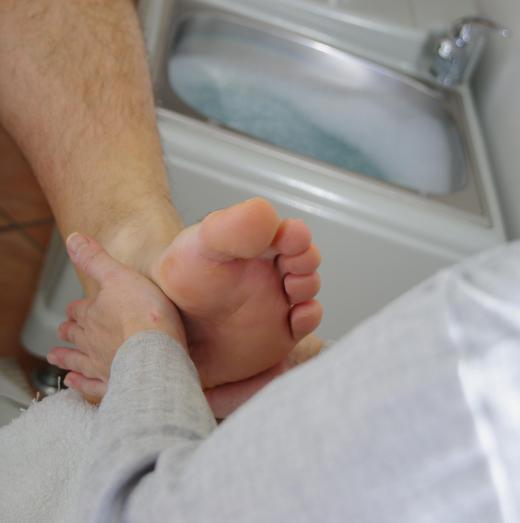 Material is also an important consideration in this category. Soft leathers are some of the most popular chair coverings, but also the most expensive. Synthetic upholsteries can be more economical, but are also more likely to cause irritation or adverse reaction.
Massage Features
Many of the most common chairs have massage features, which can usually be controlled by the user. Different models provide different options, but the basic idea is to provide stress relief and relaxation in furtherance of the pampering experience many pedicure clients want. Simple massage options usually include neck rubbing nodules, but full back support and lumbar vibrations can usually be found, too. Many of the higher-end models also incorporate heat.
Entertainment-Oriented Chairs
Depending on your style of service, you might also want to consider entertainment-ready chairs. A number of the newer chairs on the market double as entertainment and learning centers with built-in speakers, sound docks, and even laptop tables and Internet connectivity. While these might be ideal for upscale spas catering to busy business people, they are probably excessive for a standard suburban salon.
Research Filtration and Pump Connections
Water filtration and drainage is another really important consideration. Many of the lower-end chairs have piped tubs that have a pattern of not draining completely, thereby trapping residue from the previous pedicure. This type of chair can result in an environment that could breed bacteria and promote infection. The best pedicure chair, no matter how ergonomic and comfortable, could chase customers away if they know it carries unsanitary water.
AS FEATURED ON:
AS FEATURED ON:







By: Yuri Arcurs

A woman getting a pedicure.

By: Valua Vitaly

Toenails with a French pedicure.

By: gofasadi

An upscale spa may offer pedicure chairs with an Ipod dock or built-in entertainment system.

By: Andrea Arnold

Podiatrists' offices may choose function over comfort for their pedicure chair.

By: Gennadiy Poznyakov

A pedicure chair may help facilitate foot massages after pedicures.