What is a Natural Pedicure?
A natural pedicure is a beauty treatment that uses natural or organic products and tools instead of products made with chemicals or synthetic materials. This kind of spa treatment is well suited to people who try to use only natural products on their bodies as well as those who have allergies to numerous products. This is because many of the products made with all-natural ingredients are often hypoallergenic.
Like many foot treatments, a natural pedicure usually begins with the sloughing off of dead skin cells. Instead of using a file, it is likely that a pumice stone will be used. This part of the pedicure focuses particularly on the heels, the balls of the feet, and any other areas where callouses may have built up. It is common for the feet to be soaked in warm water prior to the buffing procedure as this softens the skin and makes it easier for the dead skin to come away.
Sometimes dead sea salts or essential oils are added to the warm pedicure water. The dead sea salts help to detoxify the skin. Essential oils that may be used in the water include lavender oil, jojoba oil, and tea tree oil — which is also sometimes referred to as melaleuca oil. Lavender is an aromatherapeutic oil that helps the person receiving the pedicure to relax. Tea tree oil is a natural product that has antiseptic, antibacterial, and anti-fungal properties, while jojoba oil is used simply to help moisturize the skin.
Once the feet have been buffed, the toenails are clipped and shaped into uniform shapes. The ends of the toenails may be rounded or squared off according to the preferences of the person receiving the pedicure. After this has been done, the feet, ankles, and sometimes even the lower legs are scrubbed with a natural exfoliating cleanser, rinsed again with warm water, and then moisturized. The moisturizer that is used is an organic product made with natural ingredients such as aloe, olive oil, or beeswax.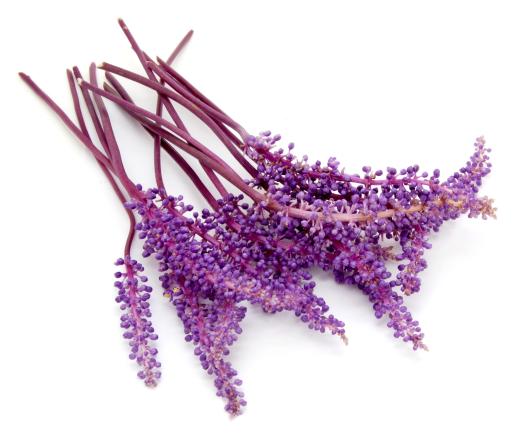 A natural pedicure may or may not end with an application of polish to the nails. If the natural pedicure does include polish, a non-toxic polish is used. Some people, however, enjoy getting a natural pedicure because it is both healthy and makes their feet look very nice without adding any gloss or color to their toenails. Not all spas offer this kind of pedicure, but the treatment can easily be performed at home by following the steps outlined above.
AS FEATURED ON:
AS FEATURED ON:







By: Yuri Arcurs

A woman getting a natural pedicure.

By: dimasobko

A pumice stone, which can be used to remove calluses.

By: Kimberly Reinick

Lavender is a favorite additive in aromatherapy due its pleasant and relaxing scent.

By: Nobilior

Natural pedicures only use organic materials.