How Do I Choose the Best Setting Lotion?
Effective setting lotions can be purchased for relatively little money at local beauty supply stores and drugstores. When looking for setting lotion, look on the bottle or packaging to see what the active ingredients are; the first three ingredients listed typically are the most prominent. Look for olive oil and other moisturizing ingredients. Avoid using setting lotions that contain isopropyl alcohol, which is a petroleum-derived solvent that is found in a number of hair products as well as antifreeze and other solutions. Not only does the hair react poorly to it, the use of isopropyl alcohol on the hair can cause dryness and breakage.
The best setting lotions will give hair volume and shine. Hair should be soft and fluffy from a roller set, and an effective setting lotion will offer hold and will control fly-a-ways without weighing down the hair. People who have chemically treated hair should use a setting lotion that will help restore the hair's acidic potenz hydrogen (pH) levels. Lotions that contain aloe are best for pH restoration. Lotions that have a high alcohol content should be avoided, because they can cause the hair and scalp to flake after sitting under the dryer for some time.
Some companies advertise their setting lotion as being natural or organic, but these are often somewhat bogus claims. Just because the product is labeled as natural does not mean that it does not contain synthetic ingredients derived from a natural source. When it comes to setting lotions, natural might not always better. In fact, natural ingredients might be more difficult to preserve and reduce the shelf life of the product. Setting lotions that contain olive oil and other moisturizing ingredients will produce a soft and flexible curl.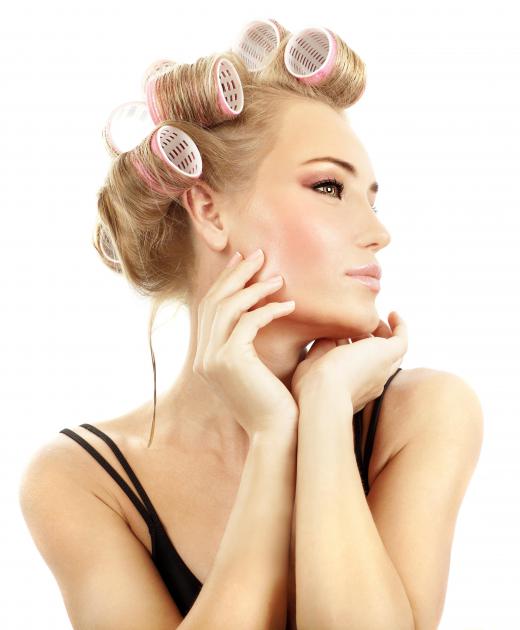 Hair should be washed and conditioned prior to roller setting. Keep in mind that larger rollers will produce looser curls. To ensure long lasting curls, sit under a bonnet dryer until the hair is completely dry. The normal drying time is 45-60 minutes, but thicker hair will require longer drying time.
Remove just one roller to check for dryness. Hair that is dry will be warm to the touch and be slightly hard. With the use of a good setting lotion, shine and volume will be noticeable immediately.
AS FEATURED ON:
AS FEATURED ON:







By: margo555

A small amount of olive oil can be used as a setting lotion to add shine to curls.

By: Anna Omelchenko

Setting lotions should give hair volume and shine.

By: xjrshimada

Hair should be washed and conditioned prior to roller setting.