How do I Choose the Best Vitamin C Lotion?
The first step in choosing a vitamin C lotion that's right for your skin is to narrow your choices to the lotions specifically made for the type of that you wish to treat, such as face, under eyes, or body. Then, you can narrow down the right type for you by evaluating the lotions' percentage of ascorbic acid in stabilized form, color, and cost. If you have sensitive skin, you should also apply a small amount of the lotion on a patch of skin to test for irritation. While a slight stinging sensation is fairly normal in lotions containing vitamin C, a more severe reaction could indicate that the product has too high a percentage of ascorbic acid or that you may be allergic to it.
It's important to choose a vitamin C lotion that's specifically made for the area of the body that you wish to apply it, as the lotions will vary by texture and formula. For example, a lotion that's formulated for the body will likely have a richer, oilier formula than one that's formulated for the face. A vitamin C serum or lotion that's formulated for the under-eye area will likely contain gentler properties than one which is formulated for the face and probably contains astringent properties. Lotions containing vitamin C for the under-eye area is also more likely to come in much smaller quantities than lotion for the face or body.
The vitamin c lotions that are most effective in potentially stimulating collagen, evening out pigmentation, protecting the skin from UV damage, and reversing free radical damage are the types that contain a stable formulation of at least 10% ascorbic acid or 2% Tetrahexyldecyl Ascorbate. Vitamin c lotion is generally found in L-ascorbic acid form, which destabilizes when exposed to oxygen and renders the lotion ineffective. Vitamin C lotion that has oxidized tends to turn yellow in color; therefore, it's best to choose a type that's not already tinted yellow or orange.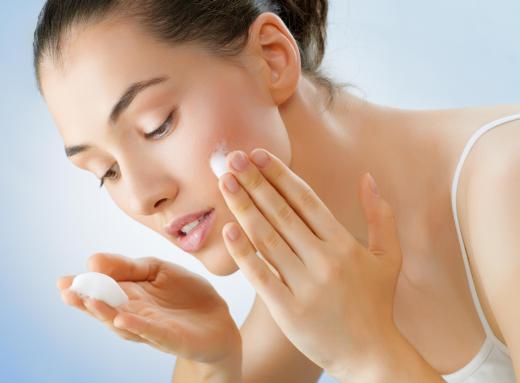 Last but not least, cost should be an important factor when choosing the best vitamin C lotion for your skin. A high-priced lotion is not necessarily of any better quality than an affordable lotion. Vitamin C lotions that contain the minimum percentage of ascorbic acid and are for the correct part of the body are just as effective as their expensive counterparts.
AS FEATURED ON:
AS FEATURED ON:







By: stockdevil

When buying new lotion, test it on a small patch of skin.

By: Konstantin Yuganov

Face vitamin C creams may need to be tested for at least two weeks to see a noticeable difference in the skin.

By: Africa Studio

Some moisturizing body lotions contain small amounts of ascorbic acid.

By: hriana

Vitamin C creams are sometimes used to reduce the appearance of spider veins.