How Do I Choose the Right Eyeliner Color?
To choose the right eyeliner color for you, you must consider your eye color, your skin tone, and your usual eyeshadow color. Learning a few tips and tricks, such as using white eyeliner to make your eyes appear brighter, can help with your overall look. Also, understanding the differences between various types of eyeliner will help you make the most of the eyeliner color you choose.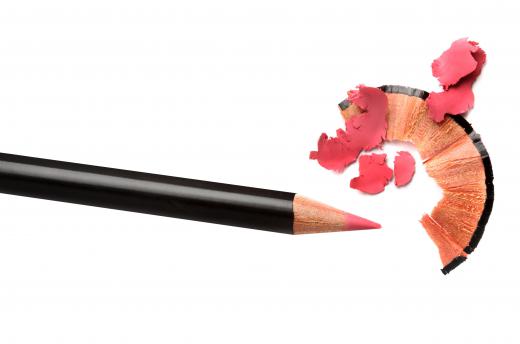 Typically, people first consider their eye color and skin tone as they're choosing eyeliner. A little research and maybe even a consultation with a cosmetics professional can help you if you're uncertain, but there are a few universal guidelines you can follow. People with blue eyes often can wear a neutral brown eyeliner to enhance their eye color, or a dramatic blue eyeliner to make their eyes "pop." For the same reasons, people with green eyes can wear deeper browns and eyeliner colors with purple undertones.
Normally, people with brown or hazel eyes have a few more options. Brown-eyed people can try a variety of dark colors, depending on the look they want to achieve. A dark brown or black eyeliner can intensify their eyes, while a muted olive green can help make them appear more open. Hazel-eyed people can choose an eyeliner color based on which of their eye colors they want to highlight or bring out. For example, black, green, or and even plum can help bring out the green color of their eyes, while brown and blue eyeliners can bring out those eye colors.
In addition to your eye color, think about the eyeshadow color or colors you usually wear as you're choosing eyeliner. For a cleaner look, you can match the colors, perhaps choosing a darker version for your eyeliner color. If you have hazel eyes, you might wear a light or mid-toned brown with a darker brown eyeliner. For a more dramatic look, you might choose eyeliner and eyeshadow colors that contrast with or complement each other. For example, a plum or dark rose eyeliner color can complement a pink eyeshadow color.
Once you choose a main eyeliner color, you might try a secondary white eyeliner, or one with light gold or silver undertones, to highlight your eyes. These colors can help your eyes look bigger, brighter, and more open. Rather than line the entire lower and upper lids, which can actually make your eyes look smaller, keep these colors on the inner corners of your lids.
Note that the eyeliner color you choose most likely will follow a "day" or "night" look. Often, day looks are neutral or muted, and appropriate for school or work. Night looks allow for more dramatic, fun, or funky color choices. If you want to try a glitter eyeliner, for instance, a nighttime party, date, or club scene could be appropriate events. Generally, presentations at work, brunch with friends, and other professional or daytime activities call for a more toned-down look.
Regardless of the eyeliner color you ultimately choose, note that different types of eyeliner provide different looks. For example, if you choose a liquid black eyeliner, the effect can be much darker and more dramatic than a pencil black eyeliner. Liquid versions are not as flexible as pencil versions, which allow you to make the eyeliner as light or as dark as you want. Also, pencil eyeliners allow you to create "smudged" and "smoky" looks, whereas liquid eyeliners are less adaptable. Once the liquid dries, you won't be able to adjust it.


By: shefkate

People with green eyes may benefit from deep brown eyeliner colors.

By: cedrov

Eyeliner is commonly used to highlight the eyes.

By: Victoria Andreas

Eyeliner color should match with skin tone, but for a dramatic look, choose eyeliner and eyeshadow that contrast or complement each other.

By: BlueSkyImages

Selecting the right eyeliner color is especially important when opting for permanent makeup application.

By: katalinks

Brown-eyed people can try a variety of dark color eyeliners.