How do I Remove Foot Calluses?
Foot calluses, which are caused by friction or pressure on the bottom or sides of the feet, are thick, tough layers of skin. Calluses, which can also develop on the hands, act to protect the body from further harm. You can remove calluses at home with a foot shaver or a callus file. In some cases, such as when the calluses are unusually painful or infected, it's best to have a professional deal with calluses on the feet.
When people go barefoot, their feet come in contact various surfaces that are irritating, such as hot concrete or rocky ground. In addition, when people wear ill-fitting shoes or high heels, the shoes can rub against the sides of the feet and toes. Feet will then develop calluses as a reaction to the heat and pressure involved in walking.
Calluses look and feel different than normal skin. In addition to being thick and rough, they can look dry or flaky. People may also feel a dull pain when pressing calluses.
Most calluses on the feet are not harmful. In many cases, they will disappear over time if the causes of the calluses are eliminated. For example, if a person who has foot calluses because of poorly fitted shoes starts wearing ones that fit better, the calluses will start to disappear.
Most people can treat their calluses at home, starting by soaking the feet in warm, soapy water. After soaking, you can use a foot shaver on the foot, scrub the feet with a pumice stone, or rub them with a wash cloth to help reduce the calluses. Regardless of what you use, applying moisturizers will help the calluses to be soft and pliable. You can also purchase over-the-counter pads to use when wearing shoes to reduce your calluses.
When you try to treat calluses yourself and continue to feel unacceptable pain or develop an infection, make an appointment to see a medical professional. He or she may cut back the foot calluses with a scalpel or prescribe an antibiotic ointment. Many healthcare professionals suggest using patches that include 40% salicylic acid, or they may suggest patients wear shoe inserts to reduce pressure and friction on the foot. Occasionally, people with calluses must undergo surgery.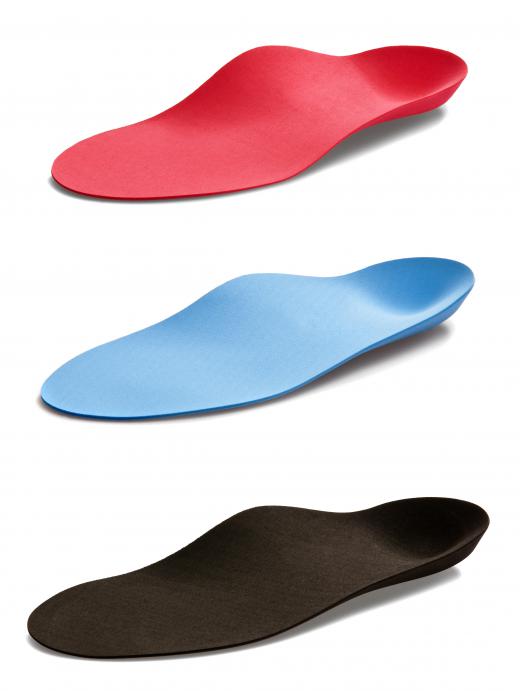 Calluses on the feet can be more serious for diabetics because of poor circulation to the feet. Not only can calluses develop more quickly for diabetics than those who do not have diabetes, they can ulcerate, becoming open sores. In some cases, surgery is required to alleviate the problem.
AS FEATURED ON:
AS FEATURED ON:







By: Anyka

One way of removing a callus at home is rubbing it with a pumice stone.

By: Quinn Dombrowski

Calluses are generally thick and rough, but they can also look dry or flaky.

Shoe insoles may help to prevent foot calluses.

By: dimasobko

A pumice stone, which can be used to remove calluses.

By: Jan Andersen

It's best to use a foot soak before removing calluses on the feet.

By: michelangelus

Callus lotion.

By: iofoto

A scalpel may be used to remove a foot callus.

By: naka

Calluses may be caused by ill fitting shoes.

By: Antonioguillem

Regularly using a pumice stone can keep feet free of calluses.