What Is a Shower Foot Scrub?
Shower foot scrub is a cleanser designed to exfoliate the skin on the feet while an individual is taking a shower. Since the water and the heat from the shower softens the skin, the feet can be exfoliated more effectively. Scrub is very grainy and not conducive use in a bath, since the granules are not always water soluble.
A foot scrub is rubbed on damp skin in a circular motion. This removes the dead skin cells, making the skin smoother and softer. The scrub is then rinsed off. Since feet often develop calluses, a shower foot scrub must be used regularly for noticeable results.
There are many types of shower foot scrubs but they all have one thing in common: each contains a granular exfoliate. Common exfoliate ingredients are sugar, salt, oatmeal, and synthetic composites. Scrubs normally also have a moisturizing agent. Natural types of moisturizers are honey and aloe vera, because of their thick consistency, but there are also some types of thick creams that serve the same purpose.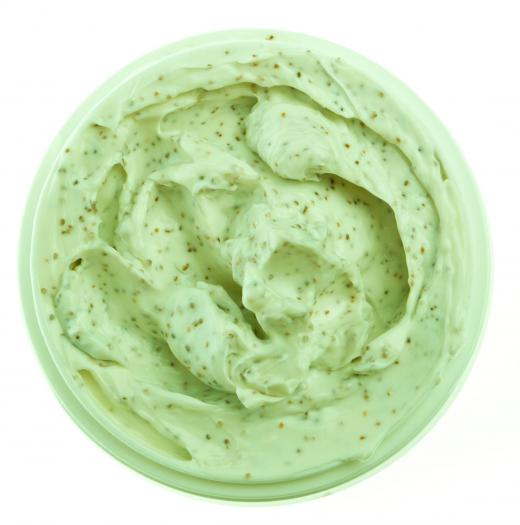 Many formulas include other ingredients for various benefits. Natural oils, typically from plants, are often used for conditioning the skin. Vitamin E is also used to improve elasticity. Although these extra ingredients may provide some desirable benefits, the primary function of the scrub is to exfoliate, so additives are unnecessary.
Both natural and artificial scents are used in a shower foot scrub formula. Floral, citrus, spices like vanilla and cinnamon, and many other scents are common. Many natural ingredients have their own pleasing odor and are not scented. In many cases, natural scents are preferred by consumers since artificial scents are often made with alcohol, which can dry out or irritate the skin.
Often companies produce a number of cleansers, scrubs, and lotions in a coordinating scent. These may be sold individually or as a gift collection. Gift collections typically include a shower gel cleanser, scrub, lotion, and loofah. Both individual shower foot scrubs and gift collections are sold at drugstores, department stores, and specialty shops. They are typically found with soaps, shower gels, and cleansers.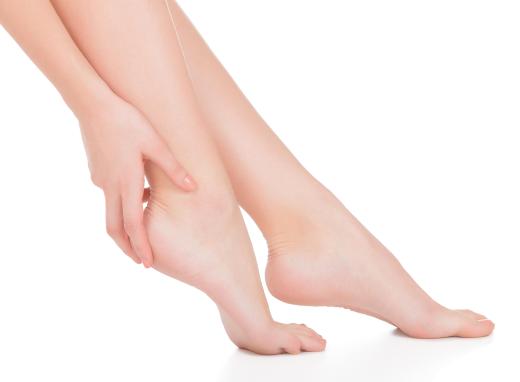 Some individuals choose to make a shower foot scrub at home. There are many recipes, but the simplest requires only two ingredients, like honey and brown sugar, or aloe vera gel and Epsom salt. Some recipes have more ingredients, including essential plant and nut oils, juices, and various exfoliates. Most homemade recipes are not shelf stable and must be stored in a refrigerator.
AS FEATURED ON:
AS FEATURED ON:







By: Arve Bettum

Shower foot scrubs may reduce the occurrence of foot calluses.

By: kubais

A foot scrub will remove dead skin cells from a person's feet.

By: bit24

Many shower foot scrubs contain sugar to exfoliate dry, tough skin.

By: Nobilior

Shower foot scrubs exfoliate one's foot.