How Do I Use Calamine Lotion on Pimples?
You can use calamine lotion on pimples by simply dabbing a little onto the blemishes themselves, or by covering your face with a thin layer of it. If your skin is prone to dryness, you should probably use a spot treating method rather than an all-over mask. Check with a medical professional if you intend to use this method with other acne treatments because a severe over-drying of the face could occur.
Before applying calamine lotion, you should ensure that your face is clean and dry. Use a mild soap to wash your face thoroughly. You can find an all-natural soap at most health food stores, or you can use a mild foaming cleanser designed for sensitive skin. Make sure to choose a facial wash that will not clog pores. It is also a good idea to avoid using additional acne treatments unless you know how your skin will respond to lotion.
Once your face is totally clean and dry, you can apply the calamine lotion to the pimples directly or to your entire face. Use a cotton ball or swab to apply it. Start with a thin layer that barely covers the surface of your skin and then add more if you feel it's needed. Leave the lotion on your face overnight and then rinse it with cool water. Repeat this process as often as you need to.
Using calamine lotion on pimples is considered safe in most cases, but it can lead to intense drying of the face. If this occurs, lessen the amount you are using or skip a day or so between uses. If dryness persists, contact your dermatologist. You can also use a moisturizing cream, although you should make sure that it is oil-free and won't clog pores, which could lead to additional acne.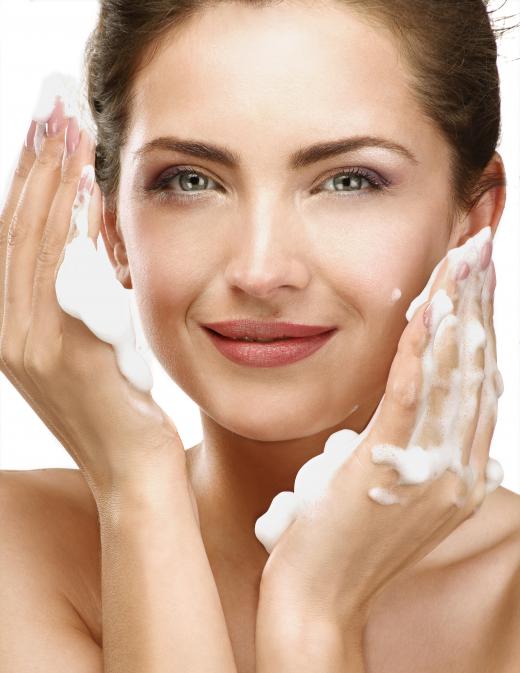 If you have never had your skin examined by a dermatologist, this would be a good first step before using calamine lotion or any other acne treatment. There are various causes of acne, so there is not one particular treatment that will work for everyone. Calamine lotion has been shown to spot treat existing pimples, but it is usually not effective at preventing acne for long periods. If your acne is severe and recurrent, speak with a trained medical professional to determine which acne treatments would work best for you. There are a wide range of medications and natural remedies that may work to get rid of acne.
AS FEATURED ON:
AS FEATURED ON:







By: lightwavemedia

A mild soap should be used to wash an individual's face before applying calamine lotion.

By: Ocskay Bence

Calamine lotion be dabbed onto pimples and left overnight.

By: ipag

Choosing the right facial wash plays a large role in preventing a breakout.

By: michaeljung

Before applying calamine lotion on pimples it's a good idea to contact to a dermatologist.

By: vgstudio

Drinking plenty of water can help keep the skin hydrated and reduce the occurrence of acne.