How does a Push-Up Bra Work?
The push-up bra is designed to make the breasts look larger, fuller, and higher, with the added bonus of creating cleavage where none previously existed. The mechanics of this type of bra rely on overflow. The breasts are squeezed into two cups that are actually a bit contrary to natural breast placement. Normally, breasts tend to swing out a bit toward the armpit, but a push-up bra forces the breasts closer together, which makes them look fuller and plumper. Stiff underwire and excess padding are built into the bottom of the cups, which force the breasts upward.
Women who are looking to purchase a push-up bra will have many choices available. In addition to having many styles to choose from, the push-up bra is manufactured to include most any size or color. The bra typically fastens in the front because putting one on is sometimes difficult, and having the fastener in front makes it easier to push the breasts together as it is being fastened.
One of the primary features of the push-up bra is the padding that fills the underside of the cups. The padding usually consists of foam, though in some bras, the pads are silicone or water-filled. Liquid padding is believed to give the breasts a more natural appearance, and tends to mimic the movement of real breast tissue. Some women choose to amplify the overall effect by inserting additional padding into the bottom or sides of the bra.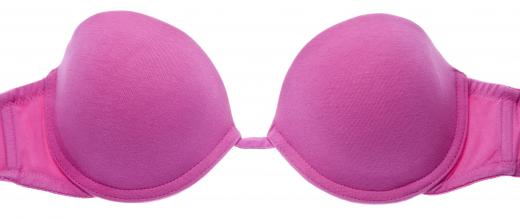 Some fashion historians credit Howard Hughes with the invention of the first push-up bra. It is said that he designed one for the actress Jane Russell in 1943. Russell was starring in a movie produced by Hughes, and rumor has it that he was not happy with the way her breasts looked on film. His answer to the problem was a bra that was designed to plump and lift her breasts.
Many women believe that their desirability is directly linked to the size and shape of their breasts, and in some instances, that could be true. Many people find large breasts very attractive while others may prefer smaller breasts, or are not particularly focused on the breasts at all. For instance, some people are attracted by facial features, shapely legs, or hips. Many experts believe that women who worry over their breast size may be the victim of psychological insecurities that are brought about by media advertising, which typically promotes beautiful women with large breasts.
AS FEATURED ON:
AS FEATURED ON:







By: Graça Victoria

A beige push up bra.

By: Brooke Becker

A strapless push-up bra.