What is a Convertible Bra?
A convertible bra is a type of bra that has movable and sometimes removable straps. These allow you to change where the straps fall on the body so you can adjust the bra for different types of clothing backs or fronts. This type of bra can often be worn without straps to accommodate strapless or spaghetti strap style tops and dresses.
The development of the convertible bra was celebrated by many since the types of women's tops exhibits extraordinary variance. Having to buy separate bras for strapless garments, cut out backs and halter top styles was expensive and certainly took up storage space in your lingerie drawer. Many women felt that the strapless bra, often standard for all types of tops with an unusual back or fit on the straps, was inadequate to the support really needed. This is particularly the case for women with larger bust sizes — straps are needed to provide ample support and lift.
The removable straps on the bra usually can be attached to several different points of the bra. With appropriate fitting, you can get a cross back style, where the straps are crossed at the shoulders. This can work with T or sports style tank tops or for wearing clothing with a cut out in the back. Some convertible bras have backless versions for wear with completely backless tops.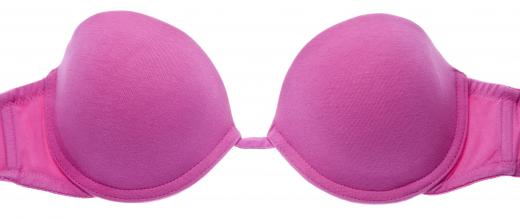 Halter tops became increasingly popular in the 2000s, and using only one strap of the convertible bra meant you could wear a halter top or halter top dress while still getting some bust support. Some styles also feature super clear straps. The ultra sheer straps mean that even a little bit of bra strap showing may not be noticed.
Of course, another of the most important features of the convertible bra is its ability to convert to a strapless bra when needed. Just make sure you keep the straps somewhere you'll remember when they're not in use. Losing the straps of the bra can easily turn the bra into a strapless bra only.
Amount of support in the convertible bra can differ with each way the bra is worn. It's a good idea to try the bra in several styles and try each conversion to see exactly how much support you'll be getting. Molded cup styles with underwire are usually best choices for women with a C cup or larger.
When you are fit for your convertible bra, bring a tightly fitting shirt to try over the bra, and perhaps any other garments you might wear with it. This is usually the best way to see how each conversion will support and whether the conversion will be enough to keep the bra from showing. Also look for sturdy attachment features.
AS FEATURED ON:
AS FEATURED ON:







A woman wearing a convertible bra.

By: Brooke Becker

A convertible bra in its strapless form.