How Should I Talk to a Tattoo Artist About a Project?
The desire for a custom tattoo is quite commendable, as it will ensure that you have a personalized work which really means something to you. However, there are a few things to consider when you are thinking about a tattoo project, to ensure that you end up with a design that you are truly, totally happy with. The first thing you should do is find a good tattoo artist, making sure that he or she is a good fit for the style of design you want, and then you will need to talk to a tattoo artist about your design.
A common complaint of tattoo artists is that people come in with ideas which are either too nebulous or far too precise. When you meet with an artist to discuss a design, you should bring along some visual aids so that you can talk about the style you want the piece to be done in, and what you want to be depicted, whether it's a family coat of arms or a mythical beast. If you want a tattoo of existing artwork, such as a drawing by Picasso, be prepared to make some changes to the work, as human skin is a very unique canvas. You may also want to bring in specific examples of what you do not want, to provide a frame of reference for the artist. Have an idea about the size and placement when you talk to a tattoo artist, as well.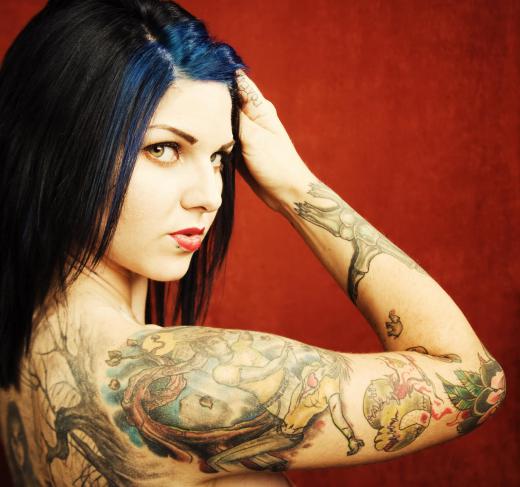 When you talk with a tattoo artist about a project, you should be prepared to be flexible. He or she may have a recommendation for placement or size which goes against your desire, for example, but you should hear the artist out. Remember that he or she has years of experience, and the artist knows what will work well. For example, text tattoos which wrap around the arms or legs tend to look bad, but they can look stunning on the back or chest, which provides a large canvas, allowing people to see the entire tattoo at once. If there are certain issues which you are not willing to be flexible about, you may end up with a tattoo which doesn't satisfy you.
A tattoo artist may also have recommendations based on your skin type and color. Some inks, for example, look stunning against black skin tones, but watery and poorly chosen when applied to more pale skin. The artist can help you turn your idea into a reality which will look good and be achievable. At the end of the session, the tattoo artist may ask to keep some of the material you brought for reference, and he or she may have produced some rough sketches of the design, and you should set an appointment to look at the design and start the tattoo. Be aware that you may be asked to put down a deposit at this stage.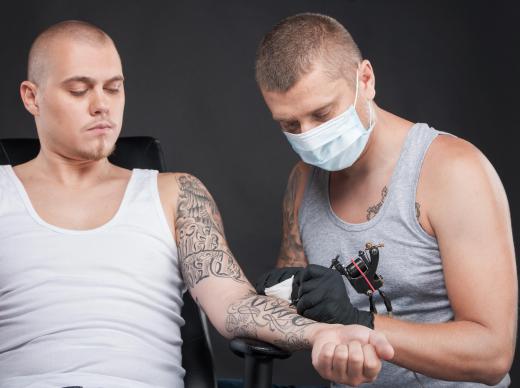 At your next appointment, look at the design carefully, and take the time to talk to the artist. If the design isn't at all what you expected, ask to have it redrawn. If the artist feels that he or she cannot or will not redraw the piece, you may want to talk to a tattoo artist who would be a better fit. If the design is more or less what you want but certain elements aren't right, ask to adjust those. Take the time to refine the design with the artist so that you both are happy.
Once the design has been completed to satisfaction, the artist will apply a stencil of the design to your body. This is another time when it pays to take the time to talk to a tattoo artist. The placement is extremely important, so if you aren't happy with the position of the stencil when it is applied, ask to have it moved. Examine the stencil carefully in the mirror to make sure that it looks like you want it to, and if the tattoo includes text, make sure that the text runs the right way!
AS FEATURED ON:
AS FEATURED ON:







By: Scott Griessel

Woman with tattoos on her arm and back.

By: Aleksandr Lobanov

A tattoo machine.

By: BlueSkyImages

Flexibility is key when talking to a tattoo artist about a project.

By: GooDAura

Large tattoos typically require many hours of planning with a tattoo artist.

By: Fabio Barni

A tattoo artist might suggest how to alter designs depending on where on the body a person wants it.

By: shime

It's important to think about the location of the tattoo when planning a new project.