What Are the Different Types of Tattoo Removal?
A tattoo can seem like a good idea at the time, but if your tastes change over the years, the tattoo you chose so long ago might lose its appeal. An unprofessional tattoo might also fade or blur. For those who would like to undo a tattoo, there are various forms of tattoo removal.
Generally, experts emphasize that to date there is no form of tattoo removal that can guarantee your skin will look like it did before the tattoo. Experts point out that the process can leave some scarring or skin discoloration. Depending on the tattoo itself and the skin of the patient, results vary.
You might have seen a tattoo removed in which the skin was scarred in roughly the shape of the original tattoo. Pigment in the removal area might be slightly lighter or darker than surrounding skin. If a small tattoo is removed from an ankle, it isn't very noticeable. However, a large tattoo removed from a bicep is quite noticeable. Though methods are always improving, possible scarring must be weighed against how much one wants to rid oneself of the tattoo.
The basic types of tattoo removal are laser surgery, including Intense Pulsed Light therapy (IPL), excision, and dermabrasion. All effective removal methods involve some pain, and the most effective methods can be quite expensive.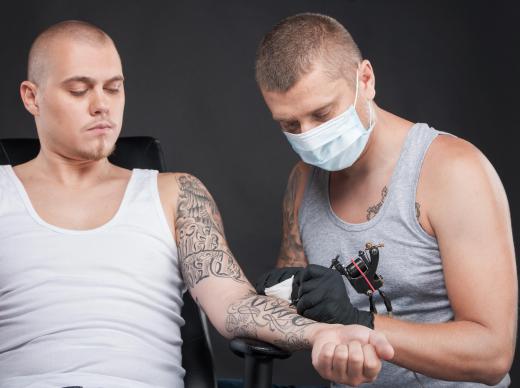 Laser surgery is probably the most common form of removal. Pulses of laser light penetrate the skin and break the pigment in the tattoo into tiny fragments. The body's own processes then begin clearing away the fragmented ink and the tattoo fades over time. IPL is an especially effective form of laser surgery.
Different wavelengths of laser light break down different colors within the tattoo. Orange, yellow, green, and blue are purportedly harder to remove than red and black. Regardless, multiple sessions are commonly required, with several weeks between appointments. The aim of laser tattoo removal is to leave minimal scarring. Results vary according to skin types, the type of tattoo removed, and the size and colors involved. A single laser session can cost anywhere from 250 to 1,500 US dollars (USD) or more.
Excision might be an option for smaller tattoos. In this case, the tattoo is surgically cut out, then the skin from either side is sewn together. To remove a larger tattoo this way, the middle might be taken out first, and the sides later. A skin graft might also be an option.
Dermabrasion involves sanding away the skin over the top of the tattoo. First, a chemical spray freezes the top layer of skin over the tattoo, then the dead skin is rubbed away. Repeated sessions are required with periods of healing between. This method also leaves some scarring.
The form of removal that is best for any particular person depends on many factors and should be decided by a licensed dermatologist experienced in tattoo removal. A prospective client can make an appointment for a consultation to discuss his or her options and the likely final result so that expectations are in line with what the doctor can deliver. Some clinics deduct the consultation fee from removal fees if the client decides to go ahead with removal. Other clinics offer free consultations.
Another option to removal is to have the tattoo redone and improved by a professional tattoo artist. This can solve the problem if the tattoo is simply blurred or amateurish. There are also tattoo artists who specialize in tattooing over old tattoos with a new, completely different design. This solution is also less expensive than tattoo removal.
AS FEATURED ON:
AS FEATURED ON:







By: Poulsons Photography

People's opinions about a tattoo may change over time, resulting in a desire to remove the tattoo.

By: BlueSkyImages

One option to tattoo removal could be to have it improved by a professional tattoo artist.