In Makeup, what are Light Diffusers?
In makeup, light diffusers are micronized mineral particles that adhere seamlessly to the skin, reflecting light away from fine lines, wrinkles, or redness. Light diffusers may also simply be crushed minerals in makeup; these particles are slightly larger than micronized particles, but both function similarly and can diffuse light. Light diffusers are typically found in products applied to the face, including moisturizer, primer, eye cream, and liquid or powder foundation. Diffusers may also be found in some body lotions.
Light diffusing makeup works by filling in fine lines, wrinkles, and other imperfections, and reflecting light away from them. It makes the skin appear brighter, fresher, and healthier, and often works to brighten and highlight the face. It smooths the texture of the skin and makes pores appear smaller, as well as diminishing the appearance of redness.
For these reasons, makeup that contains light diffusers is quite popular. Some users have raised concerns about the safety of the micronized particles in the makeup, stating that it is possible for the particles to enter the bloodstream; however, this has not yet been proven. Those concerned about safety could choose to use light diffusing makeup that contains crushed minerals rather than micronized minerals, which are larger.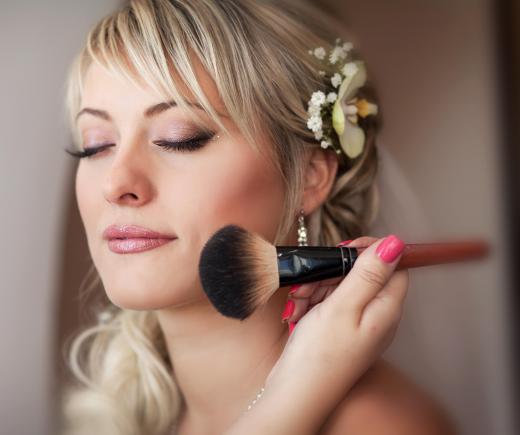 If foundation or moisturizer contains light diffusers, it may be applied all over the face. Foundation comes in different shades to match the skin tone in the most natural way possible. If the makeup is meant to be used as a brightener, however, it should only be applied to specific areas, such as the brow bone, cheek bones, and along the jaw lines, as well as any other areas that need to be brightened or highlighted. Eye creams containing light diffusers may be applied underneath the eyes to hide the appearance of dark circles.
As with any makeup, light diffusing makeup should be washed off at the end of the day using face wash or makeup remover. Many types of makeup that contain light diffusers are designed not to clog pores. In fact, some moisturizers that contain light diffusing particles also contain acne-fighting ingredients, such as salicylic acid or benzoyl peroxide, as well as ingredients designed to calm redness, such as feverfew.
Makeup containing light diffusers is generally priced comparably to other types of makeup, and is clearly labeled as containing light diffusing particles. Sunscreen may also be added to this type of makeup, but that is less common. If not, remember to apply sunscreen every day underneath foundation.
AS FEATURED ON:
AS FEATURED ON:







By: WONG SZE FEI

Eye creams containing light diffusers may be applied underneath the eyes to hide the appearance of dark circles.

By: armina

Light-diffusing makeup can help correct skin imperfections and fill in fine lines.

By: Vera Kuttelvaserova

Light diffusing makeup can help cover up eye wrinkles.

By: mikelaptev

Foundation that contains light diffusers may be applied all over the face.

By: micromonkey

Makeup that contain light diffusers can be worn on many different skin complexions.

By: Doruk Sikman

Failure to properly remove foundation may result in clogged pores and acne.

By: Tanouchka

Light diffusers may be found in both liquid and powder foundation.