What Are Common Dry Lips Symptoms?
Common symptoms of dry lips, often also known as "chapped" lips, include roughness, peeling of the skin, or breaks on the surface. Inflammation of the lips and mouth, redness, and feelings of tingling and burning may also occur. There are many reasons why someone might get dry lips, including cold weather, sunburn, wind exposure, and excessive licking of the lips. Illness can also make dryness more likely, as can certain medications. Applying moisturizing gels or creams usually fixes things, and the condition is rarely serious. Lips that are dry for a long time, don't respond to treatment, and are accompanied by other unrelated symptoms may require medical attention, though.
Dryness and Peeling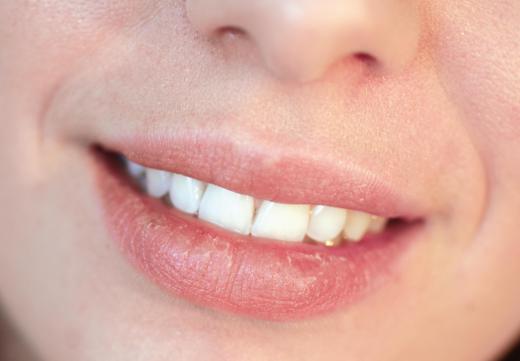 Perhaps not surprisingly, one of the most common symptoms is a general feeling of dryness. People often complain that their lips feel like they're made of sandpaper, which is to say that they don't glide together when speaking and they often seem parched and tight. The lips may also feel hard to the touch, not plump and tender the way they normally do.
Peeling is another frequent symptom, and tends to go hand-in-hand with dryness. The skin on the lips is very delicate, and when not properly moisturized the top layer sometimes sloughs off. This tends to be uncomfortable and can leave the mouth feeling raw and exposed, since the skin underneath the peels is usually very sensitive.
Cracks
Dry lips are also prone to cracking. Cracks are typically most common when conditions change suddenly: when a person travels from a moist climate to an arid one, for instance, or enters a very dry environment like an airplane for an extended period of time. Lips often crack first in places where the skin creases when smiling, eating, or speaking, and cracks can range from shallow fissures to deep and often very painful grooves along the surface. Cracked lips usually feel rough and textured when touched, and in extreme cases may also bleed. Bleeding is most common in the corners of the mouth, but can also happen in response to accidental biting; when the lips are dry they lose some of their natural resiliency, which means that clumsy eating or absent-minded lip chewing can actually cause damage.
Pain and Redness
Inflammation of the lips and outer mouth, including pain and redness, is another symptom of dryness. In most cases this is a reaction to the changing moisture levels in the skin. When the lips become dehydrated, the skin around the mouth tends to grow taught as the membranes and surface-level cells constrict. The result is often a rash-like redness that can feel raw and uncomfortable.
People who lick their lips too much or who eat a lot of very salty foods can also get a red ring around their mouth as a symptom of dryness. These reactions are mostly behavioral, which means that once the trigger stops, so will the condition, but a lot depends on the individual.
Other General Symptoms
Other general symptoms that are often associated with or accompany dry lips include a headache, a thirsty feeling, a rash of the face and mouth, or nasal congestion. Cracked or dry lips can also accompany other mouth problems like canker sores, cold sores, and dry mouth, a medical condition in which the body stops producing enough saliva.
Treatment Tips
Dry lips symptoms are usually pretty easy to treat at home. Lip balms and moisturizers are available in many places, often in convenient tubes or tubs. Regular application can both prevent dryness in the first place and help cure it once it sets in. Special products aren't usually required, though; regular petroleum jelly will coat the lips and help seal in moisture, for instance, and in a pinch skin moisturizer, vitamin E oil, or aloe vera gel will also suffice. Anything with strong fragrances or scents can irritate sensitive lips, though, and products not intended for use around the mouth can sometimes have an off-putting taste.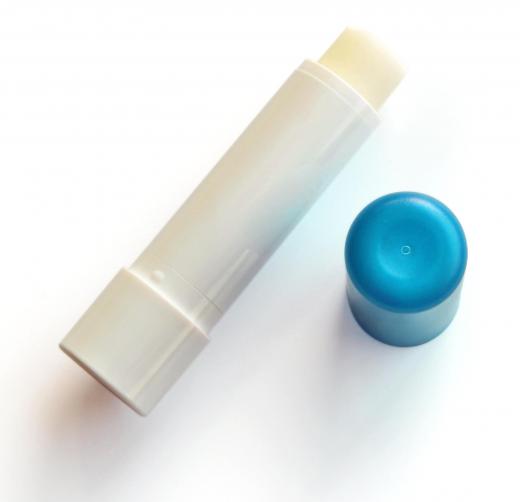 Many lipsticks and glosses also contain moisturizers, but not always. Anyone who notices that their lips are particularly prone to dryness after using certain products should either stop using them or coat the lips first with a base layer of a neutral, moisture-rich balm.
Prevention
If dry lips symptoms are severe enough, a medicated lip balm might be needed. Dry lips are commonly caused by a lack of moisture to the skin, so drinking plenty of fluids will also help keep a person hydrated. Other prevention methods include using a humidifier in rooms that get a lot of use, which will keep the air moist and can improve the health and elasticity of all of the skin. Quitting smoking may also help a person retain the natural oils in his or her lips. Additionally, using sunscreen on a daily basis, even in the winter, will help prevent skin damage that can lead to chapping.
Chapped lips also can be the result of a riboflavin deficiency. People with this problem who take a vitamin B-2 supplement can often alleviate the symptoms pretty easily. In some cases, though, dryness comes as a side effect of other medical conditions, diseases, or medications. There isn't always a good way to prevent dryness in these cases; constantly applying moisturizing balms and jellies is usually the best way to stay comfortable if the trigger can't be eliminated.
When to Get Help
Dry lips in and of themselves are rarely serious, but people should take note if the symptoms do not disappear after treatment, if they get worse, or if they're accompanied by other things like headaches, dizziness, or nausea. Chronic dehydrations is one of the leading causes of persistent lip dryness, and when left untreated it can lead to electrolyte imbalances, shock, coma, or, in extreme cases, even death. Certain cancers of the mouth and throat can also cause intense dryness. Anyone who is concerned about lips that just won't seem to heal should seek medical attention.
AS FEATURED ON:
AS FEATURED ON:







By: Eric Fahrner

A woman with dry lips.

By: Benicce

People with dry lips may also experience dry mouth problems.

By: StockPhotosArt

A humidifier can improve overall skin health by keeping the air moist in a home.

By: charles taylor

Taking B-2 supplements can help alleviate dry lips.

By: blueee

Petroleum jelly, which can help with dried lips.

By: Nazzu

Lip balm may offer some relief from dry lips.

By: sassyphotos

Aloe gel is a great moisturizer.

By: uwimages

Dry lips can accompany cold sores.