What Are Eyebrow Scissors?
Eyebrow scissors are specialized cutting instruments used for shaping or trimming the eyebrows. Typically, the small scissors consist of two sharp blades connected by a swivel pin. In most models, the handles, which control the scissors' movement, are attached to the instrument's blades.
Usually, eyebrow scissors have two handles to accommodate the index finger and thumb. The two finger appendages combine to create an open-close motion that causes the blades to slide against each other. To cut, the open blades must be placed with one on either side of the hair needing to be trimmed. Carefully moving the small shears into the closed position causes the hair between the blades to be trimmed.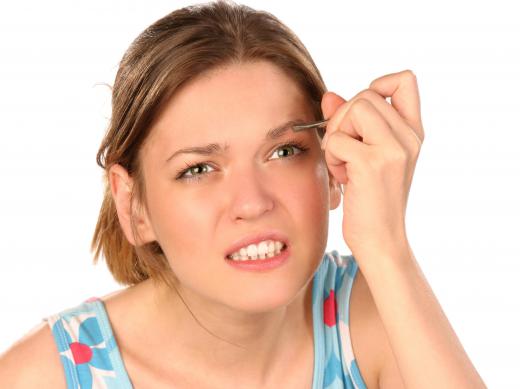 The small shears come in various forms, sizes and colors. Eyebrow scissors are usually characterized by smaller blades and handles than other types of scissors. In some instances the tips of the blades are curved or supplemented with a small groomer comb. Curved tips allow for easier hair trimming close to the forehead. Blades with a groomer comb facilitate the eyebrow trimming process by brushing the hair upwards, while the shear part of the scissors cuts the excess hair.
For many, scissors are just one of many cosmetic instruments used to groom the eyebrows. An instrument called tweezers is commonly used alongside eyebrow scissors to produce a neat and streamlined look. In a cosmetic setting, tweezers are tong-like pliers used to remove hair from the face or eyebrows. Many use tweezers to pluck the stray hairs along the lower and upper regions of the eyebrows before using the small shears. After plucking, a small brush is used to prepare the area, while the comb separates each individual hair to be cut.
Several manufacturers realize eyebrow scissors along with other grooming instruments are essential for achieving a clean well groomed look. For this reason, many companies offer eyebrow grooming kits that generally include small shears, tweezers and grooming brushes. Some companies may even include brow shavers, stencils and pencil outliners. Brow shavers are thin razors that remove eyebrow hair above the skin painlessly compared to tweezers. Stencils and pencils help to create an outline of the desired eyebrow shape to follow when using scissors, tweezers or brow shavers.
Various companies go one-step further and offer customers the ability to customize kits according to the type of hair color and thickness of the eyebrows. For example, people who have light hair with sparse eyebrows generally have the option to include light colored cosmetic pencils. Kits for individuals with dark and thick eyebrows generally contain brow gel to tame any unruly hair.
AS FEATURED ON:
AS FEATURED ON:







By: Ana Blazic Pavlovic

Eyebrow grooming kits often contain eyebrow scissors, tweezers, and a grooming brush.

By: Tarzhanova

Tweezers are often used along with eyebrow scissors for eyebrow grooming.

By: Andriy Petrenko

The brow hairs should be brushed upwards using a brow brush to reveal long hairs that need trimming.

By: gorvik

Scissor tweezers may be helpful in removing unwanted eyebrow hair.

By: lucato

Scissor tweezers may also be used for eyebrow grooming.

By: Alexey Klementiev

Eyebrow scissors can be used to trim long brows.

By: Eireann

Eyebrow scissors are specialized instruments used for shaping or trimming eyebrows.