Fuzzy slippers are a type of soft and lightweight footwear. Often made of fur, these slippers are made to keep cold feet warm and can sometimes feature cute or fun designs. Usually meant for wear indoors, fuzzy slippers are made of lightweight material and slip or slide on and off of the foot. They come in many different materials and are made as men's slippers and women's slippers. Sometimes called house shoes, they are common accessories with pajamas and robes, and make fun accessories for colorful outfits.
Like most other slippers, fuzzy slippers are generally for indoor wear. They usually feature a padded sole, with extra rubber at the bottom of the foot. The rubber keeps the foot insulated from the cold ground, and the fur keeps the foot warm from cold air. They are most commonly made in low-heel varieties, allowing for easy access right out of bed or out of the shower, though mid- and high-heel types are also available. The higher heel keeps the back of the foot warm and keeps the slipper on the foot. Some fuzzy slippers are even accompanied by a sock attached all the way to the calf.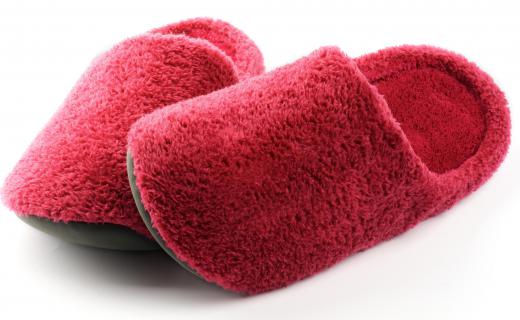 Like other slippers, fuzzy slippers are made of a variety of materials, including fur, suede, leather, terrycloth, cotton, sheepskin, or knitted sweater fabrics. They can be made of smooth fur and look much like normal slippers, or have long curls of fur and cloth and make for feathery footwear. With long strands of fur, you may track strands of colored fur around the house as the slippers get old and start to shed.
Fuzzy slippers make fun and cute holiday and birthday presents, and are worn by all ages. Many children will wear fuzzy slippers with different colors and characters. The most exuberant slippers feature large character heads on the front of the toe, or different colors, designs and accessories. Some other types of slippers are made to represent different sports teams and different hobbies, with logos or bats and balls on the front and the sides.
Fuzzy slippers in themed varieties can match with pajama bottoms and tops to make sleeping outfits, or can combine with team socks or tee shirts to give a full fan look. Some fuzzy slippers are even made for outdoor use, with firm padding on the bottom, and extra rubber or leather insulation on the outside to resist the elements.
AS FEATURED ON:
AS FEATURED ON:







By: zhekos

Fuzzy slippers are designed to keep feet warm.

By: nadyatess

Fuzzy slippers are generally designed to be worn indoors.

By: Andrew Lewis

People who suffer with cold feet may benefit from fuzzy slippers.