Designed to be used in colder climates, lined jeans use flannel or fleece as a lining inside of denim jeans. The durability of the denim coupled with the insulating properties of the lining make lined jeans a welcome article of clothing for individuals spending long periods of time in the cool outdoors. Lined jeans are typically offered in many different cuts, including boot-cut and straight-leg styles. Many manufacturers market lined jeans in both working and recreational markets, providing cold-weather protection in a functional and stylish garment.
For many workers, spending time in the cold is a daily occurrence. For those who wish to employ a particular style in their cold-weather garments, lined jeans are often the pants of choice. A flannel, fleece or felt lining is sewn inside of the denim, creating lined jeans that help to ward off cold temperatures. The lined pants are somewhat heavier than a pair of unlined jeans, but the material affords both warmth and ease of movement that a bulkier outer garment might compromise. In some professions, such as those that involve climbing and moving about in tight spaces, wearing snow pants or an outer body suit to keep warm might hinder the actions necessary to perform the required daily duties of a job.
These cold-weather garments are not limited to work attire. Commonly worn during many recreational activities, insulated jeans provide both warmth and comfort while projecting a casual and relaxed appearance. Cool-weather motorcycle riding can be much more enjoyable when the insulation found within the jeans keeps the cold wind from chilling the legs. Many outdoor sports, including snowboarding and snow skiing, benefit from the use of lined jeans when the weather is milder, yet still deserving of an additional layer of cold protection.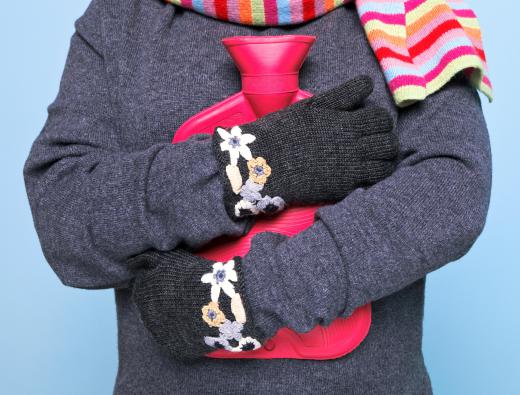 Another added benefit of wearing lined jeans when riding motorcycles is found in the added protection they provide the rider in the unfortunate event of a fall. The extra material used in the creation of the lined jeans gives an additional thickness of protection against road burn for the rider who happens to find himself sliding on the pavement. While not as protective as leather, the heavy material offers much more protection than unlined jeans alone. Whether used as a cold-weather work garment or as a cold-climate fashion accessory, the insulated denim jeans offer warm versatility for a variety of recreational and occupational scenarios.
AS FEATURED ON:
AS FEATURED ON:







By: Maridav

Lined jeans provide extra warmth during winter activities.

By: RTimages

During cold winter weather, people who are outside for an extended length of time should dress in warm layers.