Muck boots are waterproof rubber boots that can be used for a wide variety of purposes. There are special versions for equine use, farm work, fishing, hunting, gardening, and other outdoor activities. Although known as boots, this waterproof footwear also comes in sandals, clogs and shoes.
Muck boots keep feet dry and comfortable in harsh weather and messy working conditions. The secret to their effectiveness is their 100% waterproof natural rubber overlay and the self-insulating foam bootie. The non-cracking natural rubber boots and shoes have a reinforced toe, heel, and sole.
The inside bootie is made of a soft, breathable foam (the same material that is used in divers' dry suits) that draws moisture away from the foot and lower leg. Since muck boots do not have an inner felt liner, like most pack boots, skin irritations are rare. The lining can be dried in seconds using a household blow drier. The foam shell is non-abrasive and hypo-allergenic.
It is not necessary to wear thick socks with muck boots unless activities are planned for extremely cold conditions. A medium-weight athletic sock is ideal. The flexibility of the upper part of the boot means that a pant leg can be worn either inside or out of the boot.
Muck boots are warm in the winter and cool in the summer. They have a comfort range of minus 40 to 85 degrees Fahrenheit (4 - 29 Celsius). The boot fits snugly around the foot and calf, so that it is flexible, yet supportive. The boots stretch to fit your foot, so they have easy-on/easy-off convenience. They clean up easily with a spray of water.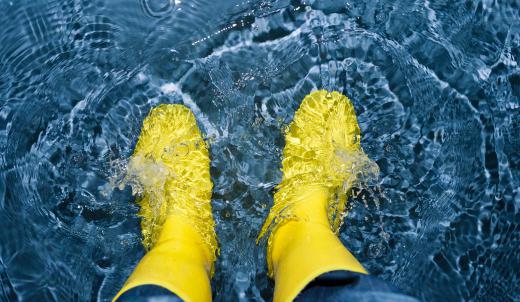 When determining size in muck boots, use your standard athletic shoe size, rather than dress shoe size. The boots are typically made in whole sizes, so if you wear a half-size, select the next size up. There is not a separate line of boots for men and women, so the size block inside the boot will contain both the men's and women's sizes (i.e., M8/W9).
AS FEATURED ON:
AS FEATURED ON:







By: simmittorok

Muck boots are waterproof rubber boots that are designed specifically for messy working conditions.

By: Bert Folsom

Wearing thick socks protects feet in very cold environments.

By: nikkytok

Muck boots are sized the same as athletic shoes.