Nail cosmetics encompass a broad category of beauty products used to promote finger and toenail health, appearance, and durability. Polish is perhaps the most easily recognizable nail cosmetics product. The category also includes a host of non-aesthetic products, many designed to soften cuticles, enhance nail strength, and help nails grow strong. Basically any beauty product intended to be used on or near the nails can be considered a member of the nail cosmetics family.
Human nails are made up of translucent keratin, an amino acid protein. Most peoples' bodies are optimized to grow strong, healthy nails automatically, though diet and a host of environmental factors can weaken their composition. Nails that are soft, dry, or brittle can cause discomfort. Many cosmetics manufacturers have entered the nail market, designing products specifically geared toward nail health.
Most nail cosmetics products come in the form or oils or creams that are meant to be applied directly to the nail. Fingernails are generally porous, and can absorb moisture that has been topically applied. Lotions enriched with proteins and growth-promoting vitamins are among the most popular nail cosmetics products. Oils are also particularly good at delivering fast moisture to dry or cracking nails.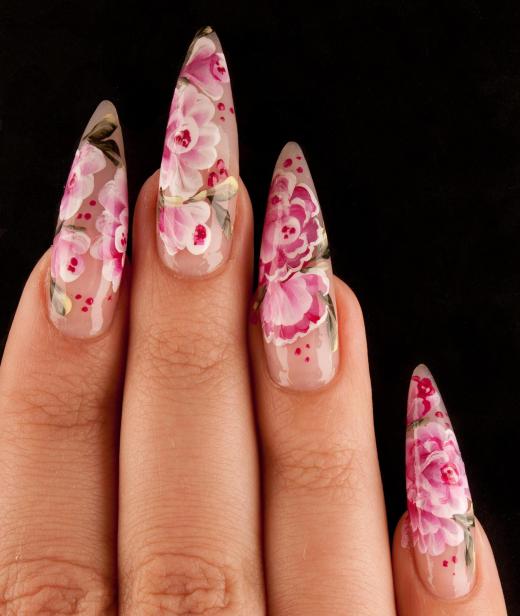 The skin directly around the nails can also benefit from some nail cosmetics products. Hangnails and peeling cuticles are common ailments of the skin near nails, many of which are actually caused by dry nails. A host of manufacturers sell cuticle creams and oils that are designed to be rubbed directly into the skin at the base of the nail. Rich lotions and creams often combine hangnail relief with nail moisturizing.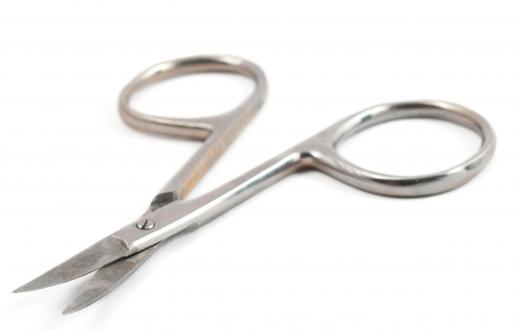 On the more aesthetic side of things are nail varnishes, enamels, and polishes. Most of these provide no health benefits. Rather, they are designed to enhance the outward appearance of the nail by adding color and sheen. Nail polishes are available in almost every color imaginable and at a variety of price points. More expensive products often provide a smoother coat that lasts longer, but not always.
Discriminating shoppers often choose nail polishes that promise to strengthen nails while shining them or that contain other purported nail health attributes. Nearly all varnishes are chemically-based, however, which means that few are actually beneficial. Varnishes rarely harm healthy nails, but most of the time, they are not able to do a lot of good, either.
Professional manicure and pedicure specialists often use a host of other nail cosmetics products when rendering their services. These typically include setting sprays, finishing creams, and UV drying lights. Many of these nail cosmetics are available only through professional distributors and can be hard for individuals to get a hold of.
AS FEATURED ON:
AS FEATURED ON:







Artificial fingernails with nail art.

Ornate flower design on artificial fingernails.

By: ksena32@ukrpost.ua

Nail scissors.

By: Valua Vitaly

Professional manicure and pedicure specialists use many nail cosmetic products.

By: Konstantin Tavrov

Cuticle creams are a common type of nail cosmetic.